2015 Trip to Alaska & More
Day 70 -
2011 Trip across the US
2012 Trip across the US
2014 Trip across the US
Other Trips
Sunday, August 16, 2015, Timberline Campground, Waukee, IA - 289.4 Miles Today, 9987.5 For the Trip
Another day, another 300 miles closer to Oswego! Nothing much to say about today's part of the journey, although the Timberline Campground is one of the nicer ones I've found along I80. I'm sure there are many others, but the Timberline has me in site 69, nestled between two trees (I wouldn't want to back a long trailer into the location), an electric & water site for $37.68 with the Good Sam's discount & paying cash. Clean unisex bathrooms (only two at this end near the office) and shade at the level site. Long enough that I didn't have to unhook.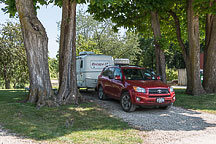 Since I arrived around 2:00, I spent most of day afternoon sitting outside & reading. It isn't quite as hot as the last two days, and was comfortable in the shade of the two large trees on site. There is a fair (2 bars) AT&T signal here, and an OK Verizon 4G LTE data signal.
Dinner will be a grilled chicken paddy sandwich & snap peas.
Until Next Time -
---
This page is maintained by: vermilye@oswego.edu
Last Update: August 17, 2015