2017 - 2018 Trip to Pick Up the New Escape 21 & More
Day 18
2011 Trip across the US
2012 Trip across the US
2014 Trip across the US
2015 Trip to Alaska
2015-16 Southwest Trip
2016 New England Trip
2016 - 17 Southwest Trip
Tuesday, August 22, 2017 - Bay View State Park, Burlington, WA, 66.5 Miles, 80.5 Towing Miles For the Trip
A very lonely night! No one moved into the campground so I was all alone. I even played my Navajo flute outdoors (I play so badly that I am only willing to play when no one else is listening).
I got a late start because I only had a short hop to Bay View State Park. Once I had internet & phone service, I called to see if they had sites, and there were lots of dry ones available. Unfortunately, I also called a bunch of parks in the Wenatchee area where I was planning to stay over the weekend, and there were no sites in any of them. I finally found a site in Yakima at the Sportsman State Park, a bit further than I wanted to drive, but at least it is in the direction I want to go. I can't wait until school starts & people stop camping (or at least fewer are looking for sites).
I'm in site 42, a dry site for $30.00. For those that don't like loud noises, you might look elsewhere - it seems my site (along with most of the park) is in the flight path of the local airport. Full size jets as well as small airplane traffic. At least it isn't constant...
Lots of ripe blackberries all over the park - I guess they will go well with my Honey Nut Cheerios for breakfast. Speaking of food, dinner will be a grilled chicken patty.
I tried to update my signature pictures with today's campsite photo (until a better one comes along) but at RV.net I have an interesting problem - when I try to save the new signature photo, it gives me an "unexpected error". What ever the error is, it doesn't have anything to do with the picture - it won't let me delete the old image or save any changes in any of the fields. So, if you visit RV.net you will still see the 17B towed by a RAV4...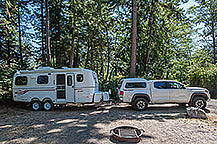 Site 42
Until next time -
---
This page is maintained by: vermilye@oswego.edu
Last Update: August 23, 2017