2017 - 2018 Trip to Pick Up the New Escape 21 & More
Day 19
2011 Trip across the US
2012 Trip across the US
2014 Trip across the US
2015 Trip to Alaska
2015-16 Southwest Trip
2016 New England Trip
2016 - 17 Southwest Trip
Wednesday, August 23, 2017 - Yakima Sportsman State Park, Yakima, WA , 237.7 Miles, 318.2 Towing Miles For the Trip
The fresh blackberries on my cereal were great. I got an early start, and was out of the park at 8:15. Most of the drive was on US 2 & US 97. I drove by the barn I photographed a couple of days ago - all the cattle were gone & I didn't stop. The trailer pulled OK on the hills & passes. The transmission temperatures climbed on the way up, but dropped quickly after the climb.
I pulled into the Yakima Sportsman State Park around 2:15 & headed to my reserved site (#13). Not much like a state park; more like a commercial trailer park with the trailers on top of each other. It is full hook ups - should be at $43.25 per night! I do remember Washington State Parks as being expensive since they charge an out-of-state fee, reservation fee, and pretty steep base prices.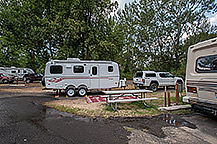 Site 13
After setting up the trailer I headed to Safeway to buy some supplies.
I ran the air conditioner for the first time - it was 92°F in the trailer after setting up. I ran it until dinner set at 70°F and it never kicked off. I believe the thermostat that comes with the new trailer (it operates both the furnace & the AC) actually shuts off the AC when it reaches temperature. I don't know if that will be more annoying than just leaving the fan running and cycling the compressor like the Escape 17 did, but it won't make much difference for sleeping, since I've always shut it off at bedtime. Of course I haven't tried to sleep in 90°F temperatures, so we will see. Right now at 7:15 it is down to 85°F outside & 80°F in the trailer since I shut the AC off for dinner.
Dinner was fried chicken legs & thighs and Honeycrisp apple sauce from Safeway. You never know what you are going to get, but this time both the chicken & their oatmeal cookies were very good. I bought a "T" bone steak for tomorrow.
Until next time -
---
This page is maintained by: vermilye@oswego.edu
Last Update: May 7, 2020