2017 - 2018 Trip to Pick Up the New Escape 21 & More
Day 54
2011 Trip across the US
2012 Trip across the US
2014 Trip across the US
2015 Trip to Alaska
2015-16 Southwest Trip
2016 New England Trip
2016 - 17 Southwest Trip
Wednesday, September 27, 2017 - Fisherman's Bend Recreation Site, Mill City, OR, 130.1 Miles, 1,273.5 Towing Miles For the Trip
After packing up the trailer, I continued west on OR 58, then north on I 5 to Salem, OR. I stopped at a Key Bank and convinced them to order me a new credit card to replace the one mailed to my house in Oswego. Unfortunately, the Washington state Key bank that suggested doing this didn't mention that to get the card in 2 days, you had to pay a $25.00 overnight service fee. Since I'm going to be in the area for close to two weeks, I opted for the 5-6 business day free service. There is a Rite Aid across the street from the Key bank, so I will refill a couple of prescriptions when I go back for the card.
When I went on line for a site at Fisherman's Bend BLM Recreation Site, site 8 was the only one left that could be reserved for 4 days. It was listed as 24' deep, and that was pretty accurate. While the trailer fits, the Tacoma has to park across the front of the site. A pretty location with very tall pine trees throughout the campground. The stuff hanging from the trees, combined with the ferns on the ground makes it almost look like a rain forest. I was in the same loop in site 17 during my 2011 trip, a pull through with water, electric & sewer for the same $. It also had a view of the river.
Some of the sites are on the North Santiam River, however mine is a inland back in site with Electric & Sewer (no water). $11.00 per night with the Senior Card (it is a BLM campground) plus a $10.00 reservation fee! So, it works out to $13.50 per night. None of the back in sites have water, and quite a few are available for one night only, which means they may be reserved for tomorrow.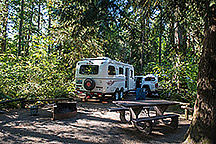 Site 8, Fisherman's Bend
I walked around the campground loop, stopped at the bathrooms to check out the showers (non temperature controlled push button, with a sign that says run all the showers to get the hot water to your showerhead.
It is very warm - 80°F or so, although it feels a bit cooler in the shade that covers my site. I sat out & read for part of the afternoon, than made dinner.
Dinner was a sausage & a hot dog with sauerkraut, a salad, and the last of a bottle of zinfandel wine.
Until next time -
---
This page is maintained by: vermilye@oswego.edu
Last Update: September 28, 2017