2017 - 2018 Trip to Pick Up the New Escape 21 & More
Day 58
2011 Trip across the US
2012 Trip across the US
2014 Trip across the US
2015 Trip to Alaska
2015-16 Southwest Trip
2016 New England Trip
2016 - 17 Southwest Trip
Sunday, October 1, 2017 - Silver Falls State Park, Sublimity, OR, 29.4 Miles, 1,302.9 Towing Miles For the Trip
Since I didn't have far to go to get to Silver Falls State Park, my next stop, I hung around the campground until almost the 1:00 check out time. Getting out of the site was tight - I held up traffic while hooking up the trailer. Nothing like the pressure of a line of RVs waiting to get by to make hooking up the trailer interesting!
My GPS wanted me to take a road off OR 22 that had a sign saying "No Outlet". I decided no, and listened to Matilda telling me to "make a U turn" over & over for the next 8 miles. She finally gave up & routed me to the town of Sublimity & OR 214, the road into the park.
I'm in site 9, after a 5 minute wait for the campground hosts to clean up after the last campers. A fairly shady water & electric site close to the playbround & bathrooms for $28.00 per night (including the reservation fee). It would be great for the rally next week, but, unfortunately, is not available (nor are any of the hookup sites) over next weekend. I'll have to move to site 100, a dry site just a couple of hundred feet away, on Thursday.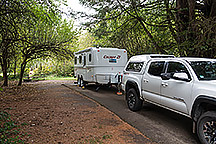 Site 9, Silver Falls SP
While the rain has stopped & there is even blue sky overhead, it is still cool, only getting up to 58°F during the afternoon. After setting up the trailer, I read for a bit, than set up my roll up table in front of the trailer door. There is a picnic table for the site, but it is a long way behind the trailer across a muddy section of ground, so using my own table make more sense.
Dinenr was a pork loin (well, a couple of slices, not the whole thing), mashed potatoes, and a salad.
Until next time -
---
This page is maintained by: vermilye@oswego.edu
Last Update: April 25, 2020