2017 - 2018 Trip to Pick Up the New Escape 21 & More
Day 114
2011 Trip across the US
2012 Trip across the US
2014 Trip across the US
2015 Trip to Alaska
2015-16 Southwest Trip
2016 New England Trip
2016 - 17 Southwest Trip
Sunday, November 26, 2017 - La Posa West, LTVA, Quartzsite, AZ, Day 11, 0 Miles, 3,253.8 Towing Miles For the Trip
Another quiet day in Quartzsite. After my walk for coffee, I made bacon & French toast for breakfast. A nice morning for sitting outside, although by afternoon it was in the mid 80's, and shade was necessary. I've mentioned before that I preferred the old manual awning with arms because you could tip it to change the angle, both to adjust shade & for water to run off in the rain. The new one on the 21 is electric, with no side arms. It just goes out & in.
Well, just before dinner I discovered another reason for disliking the new version. I had the awning out all afternoon providing shade, but when I ran it in, the guide on the front side that forces the awning header into position as it closes missed the plastic guide and broke. It jammed the awning partially closed, which involved some back & forth & using the power off & on switch to unjam. While I got the awning closed, I will have to guide it by hand every time I close it unless I can come up with a way to attach a new guide. I suspect it could be a warranty repair, but that would mean hauling the trailer somewhere and finding a place to live. Maybe this summer at home. I really liked the old technology!
I got a question about Quartzsite at the escape Facebook page, and posted a photo to show how much room there is around my site. Of course that could change at any time. The BLM requirement is that there be at least 10' between RVs. Most people leave far more room when they park in an area that already has an RV, but as the place fills, they do get closer & closer together. Mid January, during the big tent show, it gets really crowded, but for now I have lots of open space.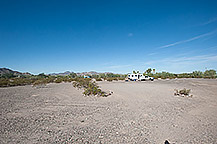 My Site From Afar
Dinner was a couple of grilled cheese & peanut butter sandwiches. For those that find that a bit strange, I can only say try one. Go light on the peanut butter or you will have a drippy mess, but the combination is good!
Until Tomorrow -
---
This page is maintained by: vermilye@oswego.edu
Last Update: November 27, 2017