2017 - 2018 Trip to Pick Up the New Escape 21 & More
Day 115
2011 Trip across the US
2012 Trip across the US
2014 Trip across the US
2015 Trip to Alaska
2015-16 Southwest Trip
2016 New England Trip
2016 - 17 Southwest Trip
Monday, November 27, 2017 - La Posa West, LTVA, Quartzsite, AZ, Day 12, 0 Miles, 3,253.8 Towing Miles For the Trip
After my usual walk for coffee to the 76 gas station (I believe I misnamed it as an ARCO station in a previous post) I ate breakfast, then read for a bit. Cooler than the last couple of days, and windy. I checked out what I need for parts to repair the awning - a right end cap. I'll try one of the Quartzsite RV shops to see if they can order one. Being a Dometic part, it shouldn't cost much more than the trailer!
After lunch, I drove to the Road Runner grocery store for supplies to make a pot of chili. They had everything I needed, although I realized once I got back to the trailer that I didn't have any cilantro. Well, it is OK without it, after all, I'm camping!
I ordered a birthday present for my almost 10 year old granddaughter from Amazon. For some reason, I couldn't get them to put a gift card in with the item I purchased, so I'll have to do that as a separate card. They have a wonderful email animated card, but I don't have her email address (if she has one).
I did have to sit outside at the stove while it cooked because the wind blew out the flame when set low enough that the chili simmered rather than boiled. I wandered over to an art piece someone made next door. Very impressive work, by someone that had too much time on their hands.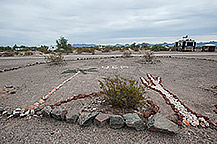 Stone Art
Dinner will be what else? - Chili. There will be enough for tomorrow, and at least one meal in for the freezer.
Until Tomorrow -
---
This page is maintained by: vermilye@oswego.edu
Last Update: November 28, 2017