2017 - 2018 Trip to Pick Up the New Escape 21 & More
Day 164
2011 Trip across the US
2012 Trip across the US
2014 Trip across the US
2015 Trip to Alaska
2015-16 Southwest Trip
2016 New England Trip
2016 - 17 Southwest Trip
Monday, January 15, 2018 - La Posa West LTVA, Quartzsite, AZ, Day 57, 0 Miles, 3,746.2 Towing Miles For the Trip
The sunset last night wasn't anything special, but the setting light on the mountains to the east was wonderful. Unfortunately, there are a bunch of RVs & power lines in between me & the mountains, but it was still pretty light.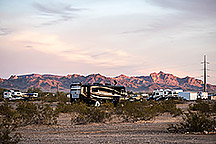 Evening Light
On the way back from coffee I was "attacked" by the wild Dachshunds living in a Dutch Star Class A for the second time. They didn't bite, but climbed all over me. A little different this time; the owners, rather than apologizing, also joined in the attack when I suggested that there was a leash law here in the campground. I was told that I should walk somewhere else, not past their RV and to go away. Nice folks! Most of the people here are thoughtful of their neighbors (well, other than the construction generator guy). Unfortunately, there always seems to be one or two that pose a problem.
Another nice day, although a bit cooler than yesterday; only in the mid 60's. I did sit outside and read a bit - current book is Ian Rankin's Black & Blue, a Scottish police procedural. I've read a number of his books in the Inspector Rebus series, but found a few that I missed. It is a little strange going back to the middle of the series since I've read the end, but still well written books.
Other than that. not much happening today.
Dinner was a couple of Chicken Empanadas, and the leftover Knorr Garlic Noodles.
Until Tomorrow -
---
This page is maintained by: vermilye@oswego.edu
Last Update: January 16, 2018