2017 - 2018 Trip to Pick Up the New Escape 21 & More
Day 165
2011 Trip across the US
2012 Trip across the US
2014 Trip across the US
2015 Trip to Alaska
2015-16 Southwest Trip
2016 New England Trip
2016 - 17 Southwest Trip
Tuesday, January 16, 2018 - La Posa West LTVA, Quartzsite, AZ, Day 58, 0 Miles, 3,746.2 Towing Miles For the Trip
No charging Dachshunds this morning on the way back from coffee. I made a couple of breakfast burritos to go with the coffee, then changed into jeans from shorts. It was a cloudy day that just made it into the 60's, so long pants and a long sleeve shirt were necessary to comfortably sit outside. I did more reading, then drove to the Quartzsite General Store for a couple of chicken leg quarters. I decided to make soup & chicken. I don't call it chicken soup, because I keep the chicken on the bones & eat it separately from the soup. Drove all the neighborhood dogs crazy cooking it outside on the grill for 2 hours. Made enough for two nights.
If anyone is wondering why I'm here in the desert rather than home in Oswego, NY, here is the January 6th snowfall report for the area: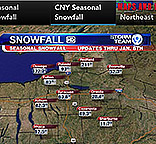 Snowfall Report
Notice that Oswego has the second most snow...
That was about it for the day. We had 4 different RVs move into the area during the day and probably 50 or more into LaPosa West. It is getting crowded!
Dinner was the chicken I spent the afternoon cooking.
Until Tomorrow -
---
This page is maintained by: vermilye@oswego.edu
Last Update: January 17, 2018