2017 - 2018 Trip to Pick Up the New Escape 21 & More
Day 181
2011 Trip across the US
2012 Trip across the US
2014 Trip across the US
2015 Trip to Alaska
2015-16 Southwest Trip
2016 New England Trip
2016 - 17 Southwest Trip
Thursday, February 1, 2018 - Agua Caliente County Park, CA, Day 4, 0 Miles, 3925 Towing Miles For the Trip
I did manage to get yesterday's web page & Blogger posts sent out this morning, but the internet has been coming & going all day. When it is here, it isn't too bad speed wise, but you can't depend on it being available. I lost a couple of replies on forums, and had posting the eclipse images hang until the second attempt. Right now, it is down. I've been listening to XM Radio since even when the internet is up, it is too slow for streaming audio. This morning it was NPR, but since XM doesn't carry Morning Edition or All Things Considered, news is limited. Most of the day was spent listening to the Grateful Dead channel. I never appreciated their music when I was younger; am I the only 73 year old that loves their music?
I didn't do much today other than walk around the campground watching all the new arrivals setting up. I did make another trip to the "spa" then headed for the showers.
I have to say that while the showers are large enough, although the floor of the drying area gets wet, the water conservation showerhead was terrible. They are pay showers, $.50 for 4 minutes, $1.00 for 8. It takes eight, 2 to wash and the remaining 6 to rinse (softened or soft water, I can never tell which). The problem with the showerhead is all it produces is a cold mist, even with the faucet all the way to hot. I might be willing to live with that using free showers, but if I'm paying for it, I expect hot water, and a strong enough stream to rinse the soap off. So, for the first time on the trip, I got out my own showerhead & temporarily replaced the mist showerhead. I had to turn down the hot water, so in the long run, I probably saved them money heating water. In any case, I'm clean & rinsed!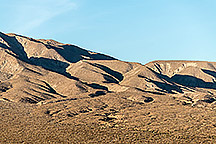 Afternoon Light
The light both yesterday and this evening is pretty on the hills to the north.
Dinner was a turkey Bubba Burger & the rest of the rice & broccoli.
Until the Next Internet Connection -
---
This page is maintained by: vermilye@oswego.edu
Last Update: July 11, 2018