2017 - 2018 Trip to Pick Up the New Escape 21 & More
Day 201
2011 Trip across the US
2012 Trip across the US
2014 Trip across the US
2015 Trip to Alaska
2015-16 Southwest Trip
2016 New England Trip
2016 - 17 Southwest Trip
Wednesday, February 21, 2018 - Picacho Peak State Park, AZ, 88.6 Miles, 4,513.9 Towing Miles For the Trip
I made bacon & eggs for breakfast, then read forums, journals, etc. Around 12.45 I headed to the entrance station to see if I could stay another night in site 91. The volunteer said that if they didn't need it by 1:00, I could stay, but the ranger stated that they could only tell me at 1:00 that I'd have to go, but not that I could stay. I asked her when I'd know if I could stay & she said it depended on how long it took to fix an electrical problem at one of the sites. Since I didn't want to hang around all afternoon, not knowing if I could stay the night, I packed up & headed out around 1:00.
A short drive to Picacho Peak State Park. As I suspected, the campsites were all filled, however they have a camping overflow area. They are pull through, dry sites with a fire ring & picnic table, for $15.00. The bathrooms & showers are not quite walkable from site 1, at least in shower shoes, although there are pit toilets next door.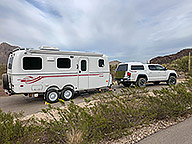 Overflow Site #1
After my 3:00 eye drops, I drove to the bathrooms for a shower (and again, cheated & used my own shower head - shh, don't tell anyone), and after returning to the trailer, met & talked with an Escape 17B owner that has one of the standard sites. None have water, just electric, so I'm not missing much here in the overflow. Even the overflow area is filling up. There are around 8 paved sites, and over half are filled, the one across from me with a tent.
Since I lucked yesterday & found a Walmart that had Empanadas (and bought the two boxes they had), that is what I'm having for dinner.
Until tomorrow -
---
This page is maintained by: vermilye@oswego.edu
Last Update: February 22, 2018