2017 - 2018 Trip to Pick Up the New Escape 21 & More
Day 233
2011 Trip across the US
2012 Trip across the US
2014 Trip across the US
2015 Trip to Alaska
2015-16 Southwest Trip
2016 New England Trip
2016 - 17 Southwest Trip
Sunday, March 25, 2018 - Bolding Mill COE Campground, Gainesville, GA, Day 4 - .5 Miles, 6,627.4 Towing Miles For the Trip
Another very short drive today - from one side of the campground to the other. I'm now in site 7. While I thought it was just a bit further to the showers & bathroom, the nearest bathroom is closed until April 15th. As far as I know, the nearest bathroom is the one I was using back at site 73. Almost as bad as Quartzsite, and the showers are unheated!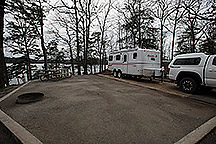 Site 7
A very cold & damp morning. I froze my fingers unhooking & re hooking the trailer & utilities during the move. 40°F and heavy clouds. Last night it rained off & on, heavy at times, but mostly light. The high for the day was 47°F, but so far no rain.
Around 1:00 I made a run to the nearest Walmart. No one seems to sell pie pans made of any kind of metal anymore. Lots of cake pans, but they have straight sides; the tapered sides work better for pies. I did find a set of throwaway aluminum foil 10" pie pans, so I got them in case I don't find anything else. I also picked up some fruit & vegetables.
I must attract neighbors that let their dogs run loose. The car camping lady next to site 73 left early this morning, but now that I'm in site 7, a new neighbor lets her two dogs out to do their thing in my back yard, again, without a leash. The even have signs all over the park stating if your dog poops, scoop - it's the law. At least they don't bark.
I did some reading in the trailer. My current book on the Kindle is Time Frame by Douglas E. Richards. It is a free book with the Kindle prime library, and worth every penny. I have a basic rule that I always finish a book I start. To me, it is only fair since many authors don't hit their best until well into the book. This one is challenging that rule. I thought the 1st in the series was OK, but this one is pretty weak. I'm 2/3's the way through, and it isn't getting any better! While I like science fiction, Richards seems to "invent" a new scientific rule or device every time he writes himself into a corner. Hardly fair, since that approach only works in SiFi.
Anyhow, I spent the afternoon in the trailer cuddled up in front of the electric disk furnace. Unfortunately, the weather predictions are not much better for the next couple of days - cool & rain. At least it isn't snow, which is happening just a couple hundred miles north.
Dinner was a chicken sandwich, snap peas & cottage cheese.
Until Tomorrow -
---
This page is maintained by: vermilye@oswego.edu
Last Update: March 26, 2018