2018 - 2019 Trip
Day 58
2011 Trip across the US
2012 Trip across the US
2014 Trip across the US
2015 Trip to Alaska
2015-16 Southwest Trip
2016 New England Trip
2016 - 17 Southwest Trip
2017 - 18 Trip to Pick Up a New Escape 21 Trailer & More
Monday, October 1, 2018 - Fool Hollow Recreation Area, Show Low, AZ, 149.1 Miles, 4,866 Miles for the Trip
A relaxing drive on US 60 from Apache Junction to Show Low. We are in the Fool Hollow Recreation Area. Not sure what the difference between them and a state park, but they are listed as one. We had booked a dual site (24 & 25) for one night since there weren't any two sites that were next to each other available for 2 nights. When we got here we discovered that sites 4&5 were available for 2 nights, so here we are. Water & electric sites for $33.00 per night.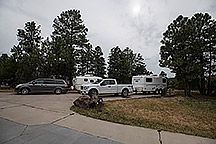 Sites 4 & 5
Rain off & on all day, mostly light but a bit heavier as we sat out under Don & Anne's awning.
Dinner was the leftover chicken & artichoke from yesterday.
Until Tomorrow -
---
This page is maintained by: vermilye@oswego.edu
Last Update: October 2, 2018