2018 - 2019 Trip
Day 87
2011 Trip across the US
2012 Trip across the US
2014 Trip across the US
2015 Trip to Alaska
2015-16 Southwest Trip
2016 New England Trip
2016 - 17 Southwest Trip
2017 - 18 Trip to Pick Up a New Escape 21 Trailer & More
Tuesday, October 30, 2018 - Leasburg Dam State Park, NM - 95.8 Miles, 5,625.4 Miles for the Trip
No rush to get out of Faywood Hot Springs since I was only planning to drive around 100 miles to Leasburg Dam State Park. On the other hand, if I left early enough, there was a chance of getting a site with hookups, a good idea for today since the clouds are pretty heavy, and predicted to hang around. Most of the times I pulled into the park after 12:00, the non reserved sites were gone. I pulled out around 9:30, and did find a small, back in site for one night that required unhooking & parking the truck next to the trailer. I'm in site 29, an almost level electric & water site with a shaded picnic table a short walk to the bathrooms & showers.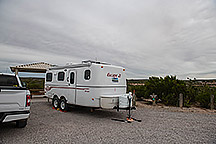 Site 29
As I pulled in, I discovered an Escape 21 parked in site 27. They are a full time couple that have been following my blog. They are staying in New Mexico long enough to make the out-of-state pass worth the $225.00 they charge (Only $100.00 for residents over 62). With that, I believe dry sites are free & sites with hookups $4.00/$8.00 per night. I almost made enough stays this year to make it worth it, but didn't get the ticket.
After setting up I read for awhile, visited next door, then headed to Walmart to restock the refrigerator. I hoped to find El Monterey Chicken, Cheddar and Mozzarella Cheese Empanadas, since I found them in the Las Cruces Walmart last time I was here, but no luck. While El Monterey still lists them on their web site & refers you to the nearest Walmart to buy them, I haven't seen them in over a year.
Dinner was a thin crust frozen pizza.
Until Tomorrow -
---
This page is maintained by: vermilye@oswego.edu
Last Update: October 31, 2018