2018 - 2019 Trip
Day 88
2011 Trip across the US
2012 Trip across the US
2014 Trip across the US
2015 Trip to Alaska
2015-16 Southwest Trip
2016 New England Trip
2016 - 17 Southwest Trip
2017 - 18 Trip to Pick Up a New Escape 21 Trailer & More
Wednesday, October 31, 2018 - Oasis RV Park, Van Horn, TX - 178.4 Miles, 5,803.8 Miles for the Trip
I stretched out breakfast, hoping the rain would stop long enough to hook up, but it never stopped, all the way to Van Horn. Brief bits of sun, but mostly rain. It got colder the further south I went (something is wrong with that!) Anyhow, I arrived at the Oasis RV Park in Van Horn, TX around 2:30 (lost an hour with a time zone change to central time). A level, full hookup site (#19) on gravel/dirt for $27.00 with a Good Sam's discount. I stayed here in 2016, and complained that the shower head fell off when I tried to adjust it, and that it was difficult to put back on. Well, it finally completely fell off - no shower head, but because of the design, no threads to put my travel shower head on in place of the broken one. It is that kind of place. Clean, and it looks like the owner tries to keep it up, but very worn. Good AT&T & Verizon coverage, as well as park WiFi that I didn't try.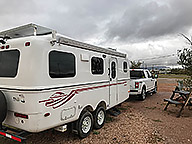 The original plan was to unhook & head to a laundromat, but there was a sign at the RV park stating it had a laundry, so I left the truck connected, tossed my clothes in the laundry basket and headed for the pool. Yes, the pool. The pool is also a laundromat, exercise room, used clothing sales, and stage for both movies & performances. A cold wind was blowing in through an open section of windows that didn't close. There were 10 or so washers & dryers alternating along one wall. $2.50 wash & $3.00 dry. Towards the end of my dryer run, the rain got heavy enough that the roof leaked a bit over the machines, the only place available to fold my clothes. All in all, not high on my recommendation list, but OK for an overnight stop (although I do recommend finding a real laundromat). Oh, one more thing - an active railroad goes by next door.
I remembered enjoying dinner at Chuy's Mexican restaurant across the street the last time I was here, so I went again this time. Fish tacos (3) with rice & beans, and very hot green sauce. Again, a good meal for $12.00 with iced tea.
Until Tomorrow -
---
This page is maintained by: vermilye@oswego.edu
Last Update: November 1, 2018