2018 - 2019 Trip
Day 89
2011 Trip across the US
2012 Trip across the US
2014 Trip across the US
2015 Trip to Alaska
2015-16 Southwest Trip
2016 New England Trip
2016 - 17 Southwest Trip
2017 - 18 Trip to Pick Up a New Escape 21 Trailer & More
Thursday, November 1, 2018 - Davis Mountain State Park, Fort Davis, TX - 84.7 Miles, 5,888.58 Miles for the Trip
A short drive to Davis Mountain State Park at Fort Davis, TX. I'm here for three nights in site 40 at $26.00 per night in an electric & water site ($20.00 for the site & a $6.00 park admission fee). Enough front to back slope that I needed 7 Lego blocks under the tongue jack to level the trailer. Other than that, the site is OK. I was originally assigned site 41, a more level site, but there are tent campers in the site that are waiting until the last minute to leave, so I asked for the move. Reasonably close to the showers, although from what I remember the last time I was here, the hot water is only warm, and since it is only in the 50's, I'm not sure how much I'll be using them.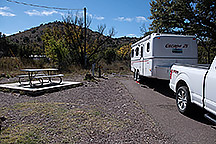 Site 40
Strange connectivity. No AT&T, and while I have a 2 bar, 4G LTE Verizon connection (with the amplifier), no data. The park WiFi provides slow access to web pages, allows radio streaming, but not mail. It doesn't look like Dreamweaver is able to connect to 1&1 (my ISP) so no posting from the campground. As I said, strange. Davis Mountain is between the campground and Fort Davis, so I will haul the computer & my hotspot to town when I go for a haircut later today and see if the connectivity is any better.
So, if you don't hear from me tomorrow or the next day, (or maybe today) I'm still here, but didn't drive to find a connection.
If the weather holds, dinner will be a Bubba burger & Bush Bourbon & Brown Sugar beans.
Until Tomorrow -
---
This page is maintained by: vermilye@oswego.edu
Last Update: November 2, 2018