2018 - 2019 Trip
Day 151
2011 Trip across the US
2012 Trip across the US
2014 Trip across the US
2015 Trip to Alaska
2015-16 Southwest Trip
2016 New England Trip
2016 - 17 Southwest Trip
2017 - 18 Trip to Pick Up a New Escape 21 Trailer & More
Wednesday, January 2 , 2019 - La Posa West, Quartzsite, AZ, Day 26 - 0 Miles, 8,082.2 Miles for the Trip
I'm getting tired of announcing another cold night at Quartzsite, but it was down to 25°F last night, almost as cold as home at Oswego! At least the sun was out all day, getting it up to a high of 60°F, and my batteries down into the single digits for negative amp hours. I don't thing they are going to end up full until the furnace stops running most of the night!
It was a busy day (at least for Quartzsite). I started with changing the bedding, and off to the laundry. While not as busy as Christmas eve, it was crowded. I couldn't figure out why my second dryer was taking so long. Discovered that someone put their money in the wrong slot and before she discovered it, I had 36 minutes of more time.
After putting away the laundry, I checked the propane & found one tank empty. A long line at the propane filling station. Propane is still $2.30 per gallon at the 76 gas station. I also stopped at one of the used book sellers & traded in most of the books stuffed in the back of the truck. I picked up a few, and ended up getting $1.00 back for the trades.
Back at the trailer wandered over to the area they are starting to set up the "Big Tent" for the January show. They are currently moving in poles, and putting down the green AstroTurf for the floor. I also did some reading until dinner, which was an Amy's Cheese Enchilada Dinner.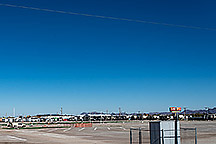 Start of the "Big Tent"
Until Tomorrow -
---
This page is maintained by: vermilye@oswego.edu
Last Update: January 3, 2019