2018 - 2019 Trip
Day 176
2011 Trip across the US
2012 Trip across the US
2014 Trip across the US
2015 Trip to Alaska
2015-16 Southwest Trip
2016 New England Trip
2016 - 17 Southwest Trip
2017 - 18 Trip to Pick Up a New Escape 21 Trailer & More
Sunday, January 27 , 2019 - Dome Rock BLM, Quartzsite, AZ - 12.5 Miles, 8,094.7 Miles for the Trip
After my walk & breakfast, I headed to the Big Tent for the last time (I know I said that yesterday; I lied), picked up a Progressive "T" shirt & my 4th shopping bag, and a couple of other freebie's wandering around the tent. It wasn't crowded; I guess Sunday is a good day to go, although a number of booths were already closed.
After that it was a bit of reading, and then making a Bubba burger for lunch (along with the remaining potato salad from the other day). Around 2:00 I decided the best plan was to dump the tanks & fill the fresh water tank today, and move to Dome Rock. If I waited until tomorrow, I'd have to pay for 2 weeks ($40.00) to dump, then pay again after the Fiberglass Rally ends 2 weeks from tomorrow to dump before heading to the rodeo grounds in Lake Havasu City. I have no problem paying the $40.00, but $80.00 for dumping twice is a bit much.
A short line at the dump station, although a very slow one. All of the RVs ahead of me were large, with large tanks. Same at the water fill, but I got lucky, and the fill station across the road emptied while I was in line. The guy in front of me didn't want to get out of line; he was still waiting after I filled & headed out.
As usual, there are a bunch of sun blockers (large RV's) here at Dome Rock, but the area I usually set up at was empty. I set up the trailer without paying attention to the sun direction. If I have to tilt my panels, it will be interesting to decide which direction. I'm hoping that by now we are far enough past the December solstice that I can leave the panels flat.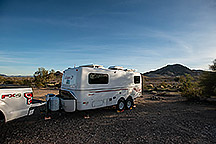 Dome Rock
In any case, I'm leveled, have the ground cloth out, my table set up & ready for a couple of weeks of slowly gathering 200+ fiberglass trailers.
Since I had a large lunch, dinner was just a salad.
Until Tomorrow -
---
This page is maintained by: vermilye@oswego.edu
Last Update: January 28, 2019