2018 - 2019 Trip
Day 213
2011 Trip across the US
2012 Trip across the US
2014 Trip across the US
2015 Trip to Alaska
2015-16 Southwest Trip
2016 New England Trip
2016 - 17 Southwest Trip
2017 - 18 Trip to Pick Up a New Escape 21 Trailer & More
Tuesday, March 5, 2019 - City of Rocks State Park, Deming, NM - 169.1 Miles,8,882.4 Miles for the Trip
I got an early start, leaving the campground at 8:00AM. I was hoping to get a first come site at Rockhound State Park in New Mexico, but when I pulled in there were already 3 RVs waiting for a spot, and only the possibility that site 14 would leave. They offered to let me camp along the entrance road for $8.00 per night with access to the facilities, but I decided to try for my favorite New Mexico campground, the City of Rocks, about 30 miles away. The only reason I didn't go there first was I stayed there on the way to Texas just a few months ago, and hadn't been to Rockhound in a couple of years.
I did stop to post the pages for the last two days. If you don't go back to them, I have to say that Sunny Flat campground is one of the prettiest of the trip. While they don't take reservations, if you go try to get one of the sites at the top of the loop at the end of the campground, particularly if you are using solar. I was down 45 amp hours by the time I left, only getting a couple of amps throughout the day because of the heavy shade at site 3 (although the babbling brook behind my site was nice).
Anyway, I pulled into City of Rocks, and my favorite site was available. I'm in site 1 until Sunday. Dry camping, with nearby restrooms with very soft water showers for $10.00 per night. The showers are a pain, but since I'd have to fill my tank with their soft water to use the shower in the trailer, I'll probably live with 2 minutes of washing & 7 minutes of rinsing!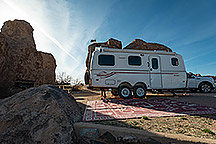 Site 1
After dropping of the trailer I headed to Deming 24 miles to the south to get a couple of 200 amp fuses from NAPA, along with the shorter bolt, then to Walmart for some supplies. NAPA only had one of the fuses, so they ordered another that I'll pick up when I go to town to do laundry.
Back at the trailer I finished setting up, finished Laurence Sanders' The Fourth Deadly Sin, then made dinner.
Dinner was turkey tacos.
Until Tomorrow -
---
This page is maintained by: vermilye@oswego.edu
Last Update: March 6, 2019