2018 - 2019 Trip
Day 214
2011 Trip across the US
2012 Trip across the US
2014 Trip across the US
2015 Trip to Alaska
2015-16 Southwest Trip
2016 New England Trip
2016 - 17 Southwest Trip
2017 - 18 Trip to Pick Up a New Escape 21 Trailer & More
Wednesday, March 6, 2019 - City of Rocks State Park, Deming, NM, Day 2 - 0 Miles,8,882.4 Miles for the Trip
Unlike yesterday, I got a very late start to the day. Went to bed with a headache, and got up in the middle of the night, unable to sleep. Did some reading, took a couple of Tylenol, and eventually fell back to sleep. Didn't wake up until close to 9:00, but the headache was gone.
I did take a sunset photo last night. The sunsets here at the City of Rocks are often spectacular; last night's was just OK, but better than many over the last couple of weeks.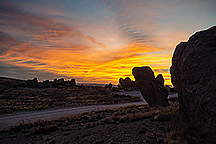 Last Night's Sunset
Back to today, I did quite a bit of reading, both on line & my latest book - Home Body by Gerry Boyle, a new author for me. As to on line, there is no AT&T service here at the campground (it is available in Deming), but Verizon has either 4G LTE or 3G service, depending on what mood it is in. In any case, the 3G is usually usable, although, as expected, the 4G is faster. I am using the outside antenna & the Wilson Sleek amplifier with either Verizon service. Only about 1-2 bars without it.
After my 3:00 eye drops, I headed to the showers. As usual, very soft water that took far longer to rinse than to wash, with the added excitement that the water stopped in the middle of rinsing. I stood there repeatedly pushing the button (predetermined water temperature & about 15 seconds per push) but for 5 minutes or so, nothing. I was about ready to give up, half rinsed, when I heard the pump come back on. Don't know if it was a power problem, water problem or what, but I did get to finish.
On the way back I traded some books at the book exchange (saw a few I left there in October) then went back to sitting in the trailer. While it is warm enough to sit outside (75°F around 3:00) it is very windy - 28 MPH on my wind gauge that is tucked behind a big rock. A bit too much wind, and lots of dust convinced me to do my reading in the trailer.
Since the batteries were fully charged, I made an early microwaved dinner - an InnovAsian Orange Chicken rice bowl. Not bad for a quick meal. although it used 6 amp hours just to cook it.
Until Tomorrow -
---
This page is maintained by: vermilye@oswego.edu
Last Update: March 7, 2019