2018 - 2019 Trip
Day 221
2011 Trip across the US
2012 Trip across the US
2014 Trip across the US
2015 Trip to Alaska
2015-16 Southwest Trip
2016 New England Trip
2016 - 17 Southwest Trip
2017 - 18 Trip to Pick Up a New Escape 21 Trailer & More
Wednesday, March 13, 2019 - Lake Murray State Park, Ardmore, OK - 183 Miles, 9,702.2 Miles for the Trip
A pretty serious cold front went through overnight. Lots of severe thunderstorm & tornado warnings, and the park supervisor driving up to each RV and letting them know what was coming. It got me nervous enough that I stayed up reading until the front went by around 2:00AM. While there was lots of rain, thunder & lightning, and wind, it was no worse that others I've sat through, although it did look nasty on my weather radar app.
Because I was up so late, I got a late start in the morning, leaving the campground around 10:00. Most of the drive was on Texas farm roads, a couple of US highways, and about 30 miles on I 35. Lots of wind on the drive, but sunny skies. I made a short stop at the Bridgepost, TX Brookshire's for gas & food.
I'm in site 18 in the Buzzard's Roost campground (there are 9 campgrounds in the park). Site 18 is a pull through, full hookup level site for $28.00 per night with a $2.00 senior discount. It is still windy, but warm at 76°F at 5:00.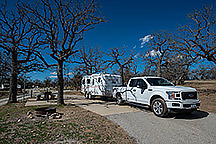 Site 18
Because I got a late start this morning, I didn't get quite as far as I expected, so tomorrow's drive is going to be longer than normal. I have reservations for 2 nights at the Aux Arc on Ozark Lake (which is actually the Arkansas River) in Ozark, AR. While I hate to make reservations, there was only 2 sites left in the park, so I did.
Dinner was a turkey sandwich & the last of the salad.
Until Tomorrow -
---
This page is maintained by: vermilye@oswego.edu
Last Update: March 14, 2019