2018 - 2019 Trip
Day 222
2011 Trip across the US
2012 Trip across the US
2014 Trip across the US
2015 Trip to Alaska
2015-16 Southwest Trip
2016 New England Trip
2016 - 17 Southwest Trip
2017 - 18 Trip to Pick Up a New Escape 21 Trailer & More
Thursday, March 14, 2019 - Aux Arc Park, Ozark, AR - 288.9 Miles, 9,991.1 Miles for the Trip
I updated the maps on my GPS last night, and it removed the "no tolls" avoidance. By the time I realized that it wanted me to take the Oklahoma Turnpike, I was well past the diagonal secondary roads that would take me to Ozark, Arkansas. It added 40 miles to the trip & put me on I 40 for more than I would have liked. In any case, I'm here.
The campground is an Army Corps of Engineers park with about 1/2 the sites on the lake/river. With the Senior Pass knocking off half the price, it is $9.00 per night for a water & electric site. B6 is a level, paved, river side site with a large gravel tent pad but a long walk to the showers, A bit of train noise from the other side of the river, but nothing that would bother sleeping.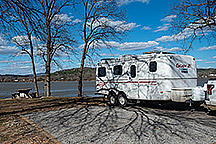 Site B6
After setting up I read for a bit, then made dinner - a Bubba Turkey burger & asparagus.
Until Tomorrow -
---
This page is maintained by: vermilye@oswego.edu
Last Update: March 15, 2019