2018 - 2019 Trip
Day 224
2011 Trip across the US
2012 Trip across the US
2014 Trip across the US
2015 Trip to Alaska
2015-16 Southwest Trip
2016 New England Trip
2016 - 17 Southwest Trip
2017 - 18 Trip to Pick Up a New Escape 21 Trailer & More
Saturday, March 16, 2019 - Aux Arc Park, Ozark, AR, Day 3 - .1 Miles, 9,991.2 Miles for the Trip
A very short, but complicated move today. My current site (B6) was reserved, so I hooked up the trailer and headed to the office. As I was pulling out (at 9:00AM) the next person was moving in. The office had a couple of people waiting to get in - the staff didn't show up until 9:30. He couldn't find me in the computer. Since I am somehow listed under 2 different accounts at Recreation.gov, I wasn't sure why until he printed out my new reservation under dermilye@oswego.edu. Must be he has a problem with my northern accent on "D's", but I have the same problem. He told me I was being moved to B4 & I commented that it was next door to my old site when he asked if I could find it. When I got there, there was someone still in the site that was planning to leave around 12:00. As I was driving to the large parking area to wait, I looked at the paperwork and found I was actually in D4. Eventually, I arrived at my new home for 2 days. Same price of $9.00 per day with the senior discount for water & electric on the opposite side of the road & quite a bit closer to the campground entrance. Still a long walk to the showers & bathroom. I'm lucky I got the site - the campground is near full.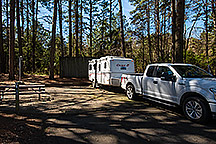 Site D4
It was a cool day, so other than a long walk, I spent most of it in the trailer. This is one of the few times I wish I had a load of firewood to build a fire to huddle around. Lots of reading, both my current book & on the internet. By the way, there is good AT&T as well as Verizon service: AT&T signal strength is -83dBm with 29.4 Mbps down & 14.3 Mbps up, Verizon at -94dBm with 84.1 Mbps down & 33.9 Mbps up.
Dinner was a chicken patty & the remainder of the asparagus.
Until Tomorrow -
---
This page is maintained by: vermilye@oswego.edu
Last Update: March 17, 2019