2018 - 2019 Trip
Day 223
2011 Trip across the US
2012 Trip across the US
2014 Trip across the US
2015 Trip to Alaska
2015-16 Southwest Trip
2016 New England Trip
2016 - 17 Southwest Trip
2017 - 18 Trip to Pick Up a New Escape 21 Trailer & More
Friday, March 15, 2019 - Aux Arc Park, Ozark, AR, Day 2 - 0 Miles, 9,991.1 Miles for the Trip
A somewhat cool night, going down to the low 40's, however tonight is predicted to go down to 28°F! I looked at my journal for the last time I was here (2 years ago) and while it was 2 weeks later, it was in the 80's during the day & 60's at night. In any case, it only got up to 60 today.
I did a walk along part of the campground (it is over a mile long) then spent the day inside reading. While there was lots of sun, it is still very windy, and the cold wind coming over the river/lake makes outside uncomfortable, at least for sitting.
I did take a photo of a string of barges being pushed up river. The lock on the other side of the river must be huge unless they broke up the string of barges. Lots of stuff moving both on the river and on the railroad tracks on the other side.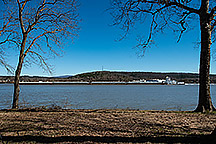 Barges on the River
That was about it for the day. I did remember to listen to Science Friday, something I've been missing because of the time zone differences.
Dinner was Signature Select Sesame Chicken & Rice. Not bad, although I prefer the Orange Chicken.
Until Tomorrow -
---
This page is maintained by: vermilye@oswego.edu
Last Update: March 16, 2019