2018 - 2019 Trip
Day 254
2011 Trip across the US
2012 Trip across the US
2014 Trip across the US
2015 Trip to Alaska
2015-16 Southwest Trip
2016 New England Trip
2016 - 17 Southwest Trip
2017 - 18 Trip to Pick Up a New Escape 21 Trailer & More
Monday, April 15, 2019 - Hungry Mother State Park, VA - 170.2 Miles, 10,951.8 Miles for the Trip
The warmth of the last couple days is gone. in the mid 40's overnight, with the furnace coming on a few times during the early morning. It never got much above 50 during most of the drive, and it is 55°F here at Hungry Mother State Park at 4:00PM.
I'm is site 38, a water & electric site with some pretty trees, and almost level ( I didn't need to unhook) at $47.12 with the taxes and Transaction fee, what ever that is. Not the least expensive, but Virginia state parks are not cheap.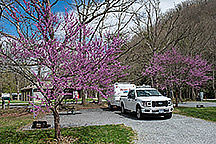 Site 38
It is cold enough (although if it was mid winter in Quartzsite, I might consider it a nice day) outside that I stayed in the trailer. Even though the sun is out, it is quite windy.
A chicken pot pie is in the oven.
Until Tomorrow -
---
This page is maintained by: vermilye@oswego.edu
Last Update: April 16, 2019