2019 - 2020 Trip
Day 2, Jonestown KOA
2011 Trip across the US
2012 Trip across the US
2014 Trip across the US
2015 Trip to Alaska
2015-16 Southwest Trip
2016 New England Trip
2016 - 17 Southwest Trip
2017 - 18 Trip to Pick Up a New Escape 21 Trailer & More
2018 - 19 Trip to Winnipeg & the Albuquerque Balloon Fiesta
2019 - 20 Trip to the Southwest
Tuesday, October 22, 2019 - Jonestown KOA, Jonestown, PA - 162.6 Miles, 286 Miles for the Trip
So far, so good on not catching Don's cold. A very foggy drive down I 81 to Jonestown. The traffic was down to 50 MPH in the foggiest areas. I still arrived early (12:10) at the Jonestown KOA, in fact, early enough that they added $4.00 ($2.00 per hour) for an early arrival. Total for a full hookup site was $51.70 with my KOA member discount. If it wasn't such an easy stop at the right distance from home or Don & Anne's, I'd probably go somewhere else. I don't need the sewer connection since I'm starting out with empty tanks, and like all KOA's more expensive than most. It is also one of the few campgrounds in the northern part of I 81 that is open year around. In any case, I am here.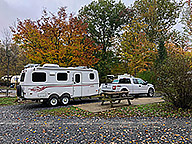 Site 59, Jonestown, PA KOA
There was light rain falling off & on during the afternoon, but now it is steady. Between the early bursts, I headed for the shower. I'll continue my "Shower Ratings" on this trip - at least a B+ like most KOA's. 4 hooks, a dry drying room with dry deck on the floor & a bench, and a reasonable shower head. On the minus side, the showers are small & the water temperature adjustment is difficult to adjust to a comfortable temperature.
After the shower I spent the rest of the afternoon reading. Current book is Anne Tyler's Clock Dance. From the looks of my weather radar app, it is likely to rain for the rest of the day (and maybe night!) I'm glad I got here when I did even if it cost me $4.00 in early arrival fees. I watched the guy next to me set up in a downpour. Didn't look like fun. I've only had to do that once or twice in the 9 years I've had a trailer. We did it a couple of times in tents way back when before we developed the good sense to head for a motel when it was raining.
Dinner was 1/4 of a broasted chicken with macaroni salad & French fries delivered to my site. Much easier to order from the KOA Store than grilling in the rain!
Until Tomorrow -
---
This page is maintained by: vermilye@oswego.edu
Last Update: October 23, 2019