2019 - 2020 Trip
Day 3, Natural Chimneys County Park, Mt Solon, VA
2011 Trip across the US
2012 Trip across the US
2014 Trip across the US
2015 Trip to Alaska
2015-16 Southwest Trip
2016 New England Trip
2016 - 17 Southwest Trip
2017 - 18 Trip to Pick Up a New Escape 21 Trailer & More
2018 - 19 Trip to Winnipeg & the Albuquerque Balloon Fiesta
2019 - 20 Trip to the Southwest
Wednesday, October 23, 2019 - Natural Chimneys County Park, Mt. Solon, VA - 227 Miles, 513 Miles for the Trip
A beautiful sunny & warm day - almost 72°F by mid afternoon. I pulled into Natural Chimneys County Park around 1:20, and settled into Site B1, a water & electric site. Not sure what the cost is - the Campground Host will be around later to collect. The campground is usually empty this time of year, but I arrived during the week they have a Halloween party on Friday, and many sites are occupied. The sites are on grass, with the only definition of which is which is the power & water posts. Some set up East/West, others North & South. Some sites have trees, mine is open. The local weather is predicting a freeze overnight, so although it is warm now, I'll still plug in the electric heater.
The campground host stopped by - $28.44, including an extra $4.00 because I'm on a 50 amp site. Since the power pedestal has a shared 30 & a 50 amp receptacle, I don't know how you are suppose to tell the difference. In any case, I guess I'm lucky to get the site - it is reserved for tomorrow. A lot has changed since the last time I was here 3 years ago - they didn't do reservations & now they do. I've never seen anyone at the office, so I don't know how you are suppose to determine if a site is available or not, but I'm OK for the night.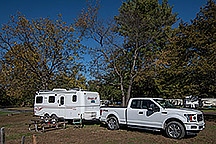 Site B1
I talked with my neighbor for a bit, then sat out in the sun & read. Around 4:45 I headed to the formations that park is named for. Took a few photos, then headed back to the trailer to start dinner.
Dinner was a couple of Barber Foods Chicken Broccoli & Cheese frozen dinners & Tabatchnick Creamed Spinach.
Until Tomorrow -
---
This page is maintained by: vermilye@oswego.edu
Last Update: October 24, 2019