2019 - 2020 Trip
Day 14, Jeff Busby Campground, Ackerman, MS
2011 Trip across the US
2012 Trip across the US
2014 Trip across the US
2015 Trip to Alaska
2015-16 Southwest Trip
2016 New England Trip
2016 - 17 Southwest Trip
2017 - 18 Trip to Pick Up a New Escape 21 Trailer & More
2018 - 19 Trip to Winnipeg & the Albuquerque Balloon Fiesta
2019 - 20 Trip to the Southwest
Sunday, November 3, 2019 - Jeff Busby Campground, Ackerman, MS - 118 Miles, 1371.1 Miles for the Trip
While I should have ended up with an extra hour of sleep, I was wide awake after my morning eye drops (I usually get an hour's snooze after them) so I was out of the campground by 8:00AM. A bit warmer last night at 35°F, but rolling up the power cord still took a bit of effort. I do wish the RV cord manufacturers used SuperVutron or one of the other rubber cold flexible cords, but they do cost more, so they don't. Since I prefer the molded plug on the pedestal end of the cord, I haven't made the change to the better cord.
I stopped for gas & a Walmart resupply at Tupelo, then continued down the Natchez Trace. Jeff Busby campground is a free, dry campground with a heated bathroom with flush toilets, but no showers. The sites don't seem to be numbered, but I'm in a pull through (most are pull throughs) next to what would be the host site if there was one. A much better site across the road from me with the grill & picnic table next to the site (mine is down a hill) but it was the handicapped site. While sitting out in the sun I watched a Vixen drive by, an unusual fiberglass Class B rear engine RV. While I've seen a bunch of them in Quartzsite, this is the first I've seen in the East. They didn't stay...
After setting up I took a site photo, then got out the grill. I'm going to grill the steak I bought the other day for a late lunch/early dinner. While grilling my steak, I found a post next to the picnic table labeled 6, so I assume that is my site number.
Good Verizon coverage with 10.4 Mbps down & 6.3Mbps up. There is AT&T service, but I didn't check the strength or speed.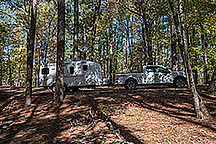 Jeff Busby Campground,
Site 6
Dinner was the steak & a salad.
Until Tomorrow -
---
This page is maintained by: vermilye@oswego.edu
Last Update: November 4, 2019