2019 - 2020 Trip
Day 15, Natchez State Park, MS
2011 Trip across the US
2012 Trip across the US
2014 Trip across the US
2015 Trip to Alaska
2015-16 Southwest Trip
2016 New England Trip
2016 - 17 Southwest Trip
2017 - 18 Trip to Pick Up a New Escape 21 Trailer & More
2018 - 19 Trip to Winnipeg & the Albuquerque Balloon Fiesta
2019 - 20 Trip to the Southwest
Monday, November 4, 2019 - Natchez State Park, MS - 195.6 Miles, 1566.7 Miles for the Trip
Another pleasant day driving down the Trace. I had to leave the Trace around Jackson since it was closed. The rest of the trip to the campground was on MS 18 & US 61. I arrived at Natchez State Park around 2:00. I'm in site 45, one site away from where I was the last time I was here. A close to level, back in concrete pad with the picnic table & grill behind the trailer. Water & Electric for $16.05 per night with the senior discount. A very nicely heated bathroom is one site away.
After setting up I headed for the shower. At least a B, the good - a warm room, medium flow showerhead (the same one I carry in my shaving kit to use to replace unusable ones), plenty of hot water, although a long wait for it, a separate drying area with a bench & shelf & 3 hooks (2 broken but usable). The bad - no shower curtain so some spray gets on the drying room floor, which is on the small side, & no shelf in the shower.
After my shower I decided to do an early dinner. I used the left over steak along with peppers & onions to make a couple of tacos (or maybe they should be called fajitas).
I met and chatted with Sara, a full timer that is heading to New Mexico. By the time we finished, it was dark enough that I had to push the ISO in the camera to get a site photo.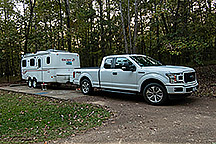 Site 45, ISO 3200
Got a call from my brother, then started posting today's page.
Until Tomorrow -
---
This page is maintained by: vermilye@oswego.edu
Last Update: November 5, 2019