2019 - 2020 Trip
Day 16, Natchez State Park, MS, Day 2
2011 Trip across the US
2012 Trip across the US
2014 Trip across the US
2015 Trip to Alaska
2015-16 Southwest Trip
2016 New England Trip
2016 - 17 Southwest Trip
2017 - 18 Trip to Pick Up a New Escape 21 Trailer & More
2018 - 19 Trip to Winnipeg & the Albuquerque Balloon Fiesta
2019 - 20 Trip to the Southwest
Tuesday, November 5, 2019 - Natchez State Park, MS, Day 2- 0 Miles, 1566.7 Miles for the Trip
A warm night, with the temperature never getting below 56F. While I had the electric cube heater plugged in & on, it never went above idle.
After reading some forums & breakfast, I headed into Natchez and a barber shop. I went to Laird's Barber Shop & Style Center, and after a 15 minute wait, had my hair cut by a former Elvis impersonator. A bit more expensive than most of my hair cutting stops at $20.00 plus tip, but a fun conversation & decent cut. After that is was a quick stop at Walmart & a Murphy's Gas Station for a fill up at $2.16 per gallon. On the way back I photographed an interesting building along the State Park Road: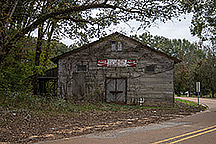 Building on State Park Road
After getting back to the campground, I had a quick shower to get rid of left over pieces of hair, then checked the internet. Verizon showed 6.5Mbps down & 1.6 up, while AT&T was slower at 2.5Mbps down & 1.3Mbps up. While it took all afternoon, I updated all my Adobe software. I'm holding off on the 2GB security update Apple would like me to do to make until I find a faster internet connection.
I did some reading sitting out in the pleasant 70°F day. It didn't clear up until after 4:00 when it cooled off.
Dinner was a chicken thigh, potatoes & Anasazi beans cooked for 20 minutes in the Instant Pot. I soaked the beans for a couple of hours & they most were done, with a few still crunchy.
Until Tomorrow -
---
This page is maintained by: vermilye@oswego.edu
Last Update: November 6, 2019