2019 - 2020 Trip
Day 21, South Llano River State Park, Junction, TX
2011 Trip across the US
2012 Trip across the US
2014 Trip across the US
2015 Trip to Alaska
2015-16 Southwest Trip
2016 New England Trip
2016 - 17 Southwest Trip
2017 - 18 Trip to Pick Up a New Escape 21 Trailer & More
2018 - 19 Trip to Winnipeg & the Albuquerque Balloon Fiesta
2019 - 20 Trip to the Southwest
Sunday, November 10, 2019 - South Llano River State Park, Junction, TX - 291.7 Miles, 2257.4 Miles for the Trip
I woke up to screaming kids at 7:00AM, not that it made much of a difference since that is the time I do my first morning eye drops. After breakfast I did some forum reading while enjoying my morning coffee, then packed up the trailer. On the way out of the park I dumped the trailer tanks. I could have gone longer since they were only 1/2 full, but the dump station was on the way out & empty.
Close to 300 miles today, however 50 of that was a mistake. I put the wrong campground into the GPS, and didn't realize I was going the wrong way until I passed part of the Texas A &M campus tthat I passed on the way to Lake Somerville campground. Other than that, an uneventful drive on various Texas secondary 2 lane roads (with 70 MPH speed limits). The last ten miles heading west was on I 10.
I'm in site 42, a back in electric & water site that is level enough that I didn't need to unhook. The picnic table has a roof & is behind the site, and the restrooms are next door. $25.00 for the night. While there is free admission to Texas parks today, it doesn't count if you are staying overnight.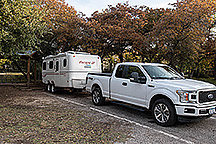 Site 42
I chatted with a couple that are towing a 17' Casita with a Toyota FJ Cruiser & showed them the Escape. While they liked the size, they are not interested in giving up the FJ Cruiser; I don't blame them.
By the time I finished setting up the trailer it was dinner time.
Dinner was a couple of Hot Pockets Garlic Chicken White Pizzas.
---
This page is maintained by: vermilye@oswego.edu
Last Update: November 11, 2019