2019 - 2020 Trip
Day 22, Fort Stockton RV Park, Fort Stockton, TX
2011 Trip across the US
2012 Trip across the US
2014 Trip across the US
2015 Trip to Alaska
2015-16 Southwest Trip
2016 New England Trip
2016 - 17 Southwest Trip
2017 - 18 Trip to Pick Up a New Escape 21 Trailer & More
2018 - 19 Trip to Winnipeg & the Albuquerque Balloon Fiesta
2019 - 20 Trip to the Southwest
Monday, November 11, 2019 - Fort Stockton RV Park, Fort Stockton, TX - 208.7 Miles, 2466.1 Miles for the Trip
A warm night - I didn't fire up the electric heater & it was only down to 62°F outside & 68°F inside. After breakfast & coffee, I packed up the trailer and headed west. All of the drive except the first couple of miles was on I 10. While it started out around 62°F, it kept getting cooler as I drove. Lots of side winds, enough to "twitch" the trailer a bit. Nothing the F 150 couldn't handle, but I'm glad I don't have a lighter truck.
By the time I stopped at Fort Stockton, it was down to 38°F, it is 37°F now at 4:00, with a predicted low tonight of 24°F. I found the furnace running when I opened the trailer door at the campground. I didn't bother to hook up the water - I'll run off the tank for the night to save freezing the water hose.
I'm in site 10, a pull through full hookup site for $36.00 per night with a GoodSam discount. The bathrooms are just a few steps away, and have very nice individual shower rooms with sink & toilet. It is heated! The first commercial campground since the Jonestown KOA the second day of the trip. Since the prediction for tomorrow is ice on the roads south of I 10 and that is the direction I'm heading to get to Big Bend, I decided to stay for two nights. With the easy access from I10, there is a steady string of RVs coming into the park.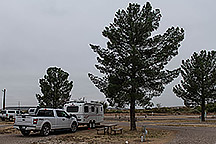 Site 10
After setting up I headed to Walmart for supplies for the next week - there isn't much shopping between here and the Rio Grande Village campground in Big Bend. I got way too much freezer stuff, and, naturally, after filling my cart with what I felt I could squeeze in the freezer, I discovered they had one of my favorites - Amy's Mushroom Risotto Bowl - I added 2 boxes. The freezer is crammed. I even wrote down the cooking instructions & took stuff out of the boxes to make more room.
I've been looking for a Weber Q1000 grill to replace the one I currently have, but no luck. While they don't stock them in their stores, I can order one from Ace Hardware, but would have to find one to ship it to. Unfortunately, Herb's Hardware in Quartzsite is a True Value Hardware store. The nearest Ace in in Blythe, CA. I was hoping I'd go by a Camping World on the road since they usually stock them & I get a member discount, but haven't seen one so far.
There is a restaurant in the campground with what has been described as a limited menu, but it looks like it is limited to just the stuff I like, so even though a nasty, cold rain is falling, I'll probably head over there for dinner.
Dinner was at the campground restaurant - I had the chicken fried steak. A bit tougher than I like, but filling. A free cup of Blue Bell ice cream for dessert.
Until Tomorrow -
---
This page is maintained by: vermilye@oswego.edu
Last Update: November 12, 2019