2019 - 2020 Trip
Day 46, Dead Horse Ranch State Park, Cottonwood, AZ
2011 Trip across the US
2012 Trip across the US
2014 Trip across the US
2015 Trip to Alaska
2015-16 Southwest Trip
2016 New England Trip
2016 - 17 Southwest Trip
2017 - 18 Trip to Pick Up a New Escape 21 Trailer & More
2018 - 19 Trip to Winnipeg & the Albuquerque Balloon Fiesta
2019 - 20 Trip to the Southwest
Thursday, December 5, 2019 - Dead Horse Ranch State Park, Cottonwood, AZ - 90.9 Miles, 3,661.7 Miles for the Trip
Another late start. I sat at the picnic table & trimmed my beard, then decided that a shower would be a good idea to get rid of itchy hairs. While it was warmer than the shower the other day, it was still colder than I'd like. By the way, we stayed at Lake Pleasant on our trip last year, but stayed at the Lake Pleasant Resort. The resort was far more expensive and no where as nice. On top of that, they charged Don & Anne an extra $10.00 per night because you could see the lake from their site.
Some very pretty scenery along I 17 on the way to Cottonwood. I gained as much as 3500' on the drive, resulting in 11.7MPG for the trip. I'm in site 89, a level pull through with water & electric for 4 nights - $31.25 per night, $30.00 plus the $5.00 reservation fee. I'm here for the Christmas Scamp Camp Rally. It has been in Sedona in the past. While called Scamp Camp, it is open to all fiberglass trailers. So far there are a couple of Escapes, a Lil Snoozy, and a bunch of Scamps.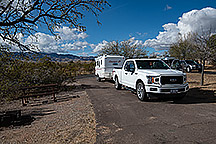 Site 89
After setting up I walked around the campground, then sat in the sun and read. While the air is chilly, the sun is strong enough to make it comfortable until a cloud blocks it. My AccuWeather app says it will go down to 28°F tonight. Unless it drops below freezing early, I'll leave the water hooked up since most of the hose is on the ground and a couple of hours below freezing isn't going to be a problem.
Greg, the host for the rally just pulled in at 4:15. There are around 10 trailers already here, and many reserved sites where more will be arriving tomorrow.
A bunch of us went to Pizzeria Bocce in Cottonwood for dinner. Excellent pizzas & salads.
Until Next Time -
---
This page is maintained by: vermilye@oswego.edu
Last Update: December 6, 2019