2019 - 2020 Trip
Day 47, Dead Horse Ranch State Park, Cottonwood, AZ, Day 2
2011 Trip across the US
2012 Trip across the US
2014 Trip across the US
2015 Trip to Alaska
2015-16 Southwest Trip
2016 New England Trip
2016 - 17 Southwest Trip
2017 - 18 Trip to Pick Up a New Escape 21 Trailer & More
2018 - 19 Trip to Winnipeg & the Albuquerque Balloon Fiesta
2019 - 20 Trip to the Southwest
Friday, December 6, 2019 - Dead Horse Ranch State Park, Cottonwood, AZ, Day 2 - 0 Miles, 3,661.7 Miles for the Trip
My morning walk was to the top of the hill that overlooks the campground. After breakfast I wandered around taking a few photos, which are at the Christmas Scamp Camp 2019 page. Eventually, 4 of us got our acts together (this is a gathering, not an organized gathering) and headed to the Tuzigoot Ruins. They have an indoor museum with artifacts & explanations of the ruins, then a walk around the structure.
Our next stop was at the Verde Canyon Railroad headquarters. They do a 1 hour "Magical Christmas Journey" for $45.00 through the canyon. We didn't take the ride, but checked out the gift shop.
After the railroad stop, since we were already in Clarkdale, AZ, we had a late lunch at Su Casa, the "best Mexican restaurant" in the valley. I don't know about everyone else's meal, but my fish tacos were excellent. Good chips & salsa, and plenty to eat, in fact, no need for dinner tonight!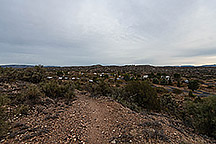 Cooper's Hawk Loop
Tuzigoot Ruins
Tuzigoot Ruins
Jerome From the Ruins
The Verde Canyon Railroad
Until Next Time -
---
This page is maintained by: vermilye@oswego.edu
Last Update: December 7, 2019