2019 - 2020 Trip
Day 48, Dead Horse Ranch State Park, Cottonwood, AZ, Day 3
2011 Trip across the US
2012 Trip across the US
2014 Trip across the US
2015 Trip to Alaska
2015-16 Southwest Trip
2016 New England Trip
2016 - 17 Southwest Trip
2017 - 18 Trip to Pick Up a New Escape 21 Trailer & More
2018 - 19 Trip to Winnipeg & the Albuquerque Balloon Fiesta
2019 - 20 Trip to the Southwest
Saturday, December 7, 2019 - Dead Horse Ranch State Park, Cottonwood, AZ, Day 3 - 0 Miles, 3,661.7 Miles for the Trip
A short morning walk. Around 10:30 we drove to the corner of 10th st (a little past the the park entrance road) and main street to watch the Cottonwood Christmas Parade. That's us in the first photo. Lots of floats, fire engines, horses, but the promised pigs never showed. While I thought he was retired, Smoky the Bear did go by. I collected about a pound of candy, but missed out on the miniature garbage can handed out by Taylor Waste.
A long parade - it ran from around 10:45 to 1:15.
After lunch, it was open house for trailer visits. We toured until close to 4:30, checking out the modifications & additions done to the different trailers.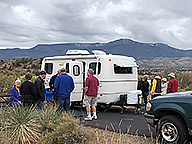 Making the Rounds
Dinner was an Amy's Cheddar Cheese Burrito & a salad.
Until Next Time -
---
This page is maintained by: vermilye@oswego.edu
Last Update: December 8, 2019