2019 - 2020 Trip
Day 67, La Posa West LTVA, Quartzsite, AZ, Day 18
2011 Trip across the US
2012 Trip across the US
2014 Trip across the US
2015 Trip to Alaska
2015-16 Southwest Trip
2016 New England Trip
2016 - 17 Southwest Trip
2017 - 18 Trip to Pick Up a New Escape 21 Trailer & More
2018 - 19 Trip to Winnipeg & the Albuquerque Balloon Fiesta
2019 - 20 Trip to the Southwest
Thursday, December 26, 2019 - La Posa West LTVA, Quartzsite, AZ, Day 18 - 0 Miles, 3,894.2 Miles for the Trip
A cool, dreary day. Heavy clouds, off & on rain, and is is still only 54°F at 12:30. The solar panels are putting out a whopping 14 watts. We did have a pretty sunrise. I try to avoid being awake for them, but the days are getting longer, and I was up with the sun this morning (I did go back to bed):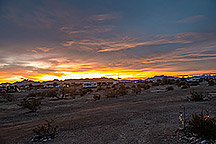 Quartzsite Sunrise
Later this morning I walked around the camping area with my camera to take a couple photos of some of the washes. For those back east that don't have washes, they are areas that flood during rain, sometimes even when the rain is many miles away. When they are in a slot canyon, they can be very dangerous since there is no where to go when they fill with water, which often starts as a 2'-3' high wall of water, rocks, trees & brush. Here at Quartzsite they often look like an attractive place to set up, but if there are heavy rains, they become rivers. The instructions for setting up in the LTVAs prohibits setting up in a wash. Here are photos of a couple different ones around the BLM campground:
| | | | |
| --- | --- | --- | --- |
| | | | |
| Small Wash Next to My Trailer | Medium Wash | Bigger Wash Between the Campground & Big Tent Area | Very Large Wash at the Western Edge of the Campground |
If we get enough rain to fill any of them I'll try to get photos, but I do hate wandering around in the rain.
On the way back to the trailer I stopped at the overlook of the Big Tent area. The main poles are not up yet, but part of the tent, or maybe the sides are stretched out along the field & look ready to go: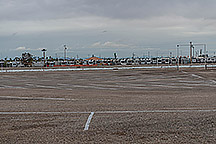 Part of the Tent
Back at the trailer I spent the day inside reading, both on line & my Kindle - latest book is Ready Player One by Ernest Cline. An interesting SiFi that delves into multi player on line games. Too cold & rainy to sit outside, even though there is little wind. My weather app warns of flash floods, but it is going to have to rain a lot harder for that to happen. Still, a lousy day.
Now, at 3:30 it is down to 50°F outside and raining. The furnace has been kicking on & off all afternoon. I was planning to head to a restaurant for dinner, possibly the new Chinese restaurant or to Silly Al's for a pizza, but with the lousy weather, decided to stay in & bake a Barber Chicken Cordon Bleu & a salad. My weather app shows the clouds breaking tomorrow, although not much warmer. I'd love to see a bit of sun! I can see a bit of clearing to the southwest, but along with the partial clearing came 27MPH winds, but we still have heavy clouds over Quartzsite. I have a weather radar app that shows the rain will go on for at least a couple more hours.
So, as said, dinner was a Barber Chicken Cordon Bleu & a salad.
Until Next Time -
---
This page is maintained by: vermilye@oswego.edu
Last Update: December 27, 2019