2019 - 2020 Trip
Day 68, La Posa West LTVA, Quartzsite, AZ, Day 19
2011 Trip across the US
2012 Trip across the US
2014 Trip across the US
2015 Trip to Alaska
2015-16 Southwest Trip
2016 New England Trip
2016 - 17 Southwest Trip
2017 - 18 Trip to Pick Up a New Escape 21 Trailer & More
2018 - 19 Trip to Winnipeg & the Albuquerque Balloon Fiesta
2019 - 20 Trip to the Southwest
Friday, December 27, 2019 - La Posa West LTVA, Quartzsite, AZ, Day 19 - 0 Miles, 3,894.2 Miles for the Trip
I went for coffee this morning with my neighbor. We chatted about some of the similar things in both our jobs before retiring; things like the NEC requiring the shift from welding cable for 120V power connections to SC Entertainment cable. Stuff that few can appreciate! He worked in the generator industry supplying carnivals & fairs.
I stopped by one of the more unusual RVs in the campground for a photo yesterday. I've seen tiny houses on trailers (BLM does not allow anything that doesn't have wheels), a large, live in boat on a trailer, but this is the first limo camper I've seen anywhere. They do have a small cargo trailer, but I suspect they sleep in the limo.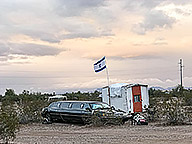 A Limo RV
A cloudy cool day. A bit of sunshine crept through around 2:30, but the rest of the day was producing less than 80 watts from the solar panels. I did manage to bring the batteries back to 80%, so I'll skip running the generator, at least for today. I spent the day reading, including two terrible books. While I have discovered some very good authors & reads using Amazon's Prime Unlimited, and it is well worth the $10.00 per month they charge, there sure is a lot of junk out there. Hard to tell from the titles, or even the reviews, although I'm always suspicious of reviews from individuals or even other authors. Real organizations such as the NY Times or Kirkus Reviews tend to be more honest. The most recent book was Gregg Olsen's If You Tell, non-fiction about a family abused by the mother. Stephen King couldn't write anything more gruesome.
That was pretty much it for the day.
Dinner was a trip to the Friday All-You-Can-Eat Cod fish fry at Sweet Darlene's. I usually arrive around 3:45, and they start serving at 4:00. I got tied up trying to put one of the puzzles my kids sent back together and didn't leave the trailer until 4:00. What a difference! Instead of getting a seat as I walked in the door, I had a 25 minute wait. Very crowded! There is a 4:00 rush, although by the time I left around 5:00, there was still a line at the door waiting for seats.
| | |
| --- | --- |
| | |
| I Got it Apart | Sweet Darlene's |
Until Next Time -
---
This page is maintained by: vermilye@oswego.edu
Last Update: December 28, 2019