2019 - 2020 Trip
Day 120, Split Rail RV Park, Quartzsite, AZ
2011 Trip across the US
2012 Trip across the US
2014 Trip across the US
2015 Trip to Alaska
2015-16 Southwest Trip
2016 New England Trip
2016 - 17 Southwest Trip
2017 - 18 Trip to Pick Up a New Escape 21 Trailer & More
2018 - 19 Trip to Winnipeg & the Albuquerque Balloon Fiesta
2019 - 20 Trip to the Southwest
Monday, February 17, 2020 - Split Rail RV Park, Quartzsite, AZ - 68.5 Miles,4,046 Miles for the Trip
I packed up, said many good byes, then headed south on AZ 95 around 11:00. The plan was to stay at one of the Quartzsite LTVAs for a night, but I have developed an really bad gray tank odor. Since it is vented to the outside, that should not be a problem, however I suspect there is a bad splice in the vent line that goes through one of my clothes closets. The result is the clothes in the closet, and, to a lesser extent, the entire insides of the trailer stink!
I decided to stay in a place that has full hookups so I could flush the tank, then fill it with a bunch of gray tank cleaner, leave it overnight, and drain in the morning, hoping to solve the problem. I'm in site 28, a full hookup site for $25.00.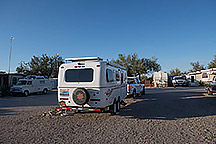 Site 28
So, my 78 day streak of dry camping has ground to a halt. Only for a day since I still plan to head to Imperial Dam tomorrow. Since I'm here for the night, I'll also do a couple of loads of laundry. The machines are pretty small, at least compared to those at the Laundromat in town, so it worked out to 3 loads, both wash & dry. Still less expemsive at $1.50 to wash & $.25 per 15 minutes to dry, than the downtown laundromat.
Dinner was a late lunch at the Chinese restaurant. Very empty - much of the Quartzsite crowd had moved on. I even got a parking space at KB Tools!
I'll probably snack on some cheese & crackers later.
Until Tomorrow -
---
This page is maintained by: vermilye@oswego.edu
Last Update: February 18, 2020