2019 - 2020 Trip
Day 121, Imperial Dam LTVA, CA
2011 Trip across the US
2012 Trip across the US
2014 Trip across the US
2015 Trip to Alaska
2015-16 Southwest Trip
2016 New England Trip
2016 - 17 Southwest Trip
2017 - 18 Trip to Pick Up a New Escape 21 Trailer & More
2018 - 19 Trip to Winnipeg & the Albuquerque Balloon Fiesta
2019 - 20 Trip to the Southwest
Tuesday, February 18, 2020 - Imperial Dam LTVA, CA - 79.3 Miles, 4,125.3 Miles for the Trip
Well, after a flush yesterday, and a full tank with gray tank cleaner overnight that I dumped in the morning, the smell is gone. It must be blueberry pie remains since that is about the only food stuff that goes down the drain. I wipe everything before washing, but the blueberry pie sticks to the pans well enough that soaking is the only way to clean them. I filled the tank to 1/3, and will add more tank cleaner to slosh around on the trip to Imperial Dam.
I arrived around 11:00, and the trailer still smells normal, so I'm calling it cured. Imperial Dam LTVA is in California since it is on the other side of the Colorado River, but the only way in is through Arizona, they use Arizona time, and your phone will likely lock on to an Arizona tower, so that makes sense. Yuma is the nearest city with large stores.
I'm in my usual area, just above the Gravel Pit Pavilion. It is usually either empty or just a single RV, but today there are about 5 of us in the area. It is large enough that no one is on top of anyone. Lots of sun & 78°F at 2:00.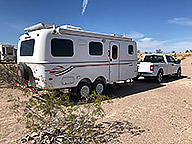 Gravel Pit Site
After setting up I checked the cell coverage. I haven't been here in a couple of years, and in the past Verizon was all you could get at this level. Now both Verizon & AT&T have a signal, but AT&T is near unusable, even with an amplifier. AT&T: -116dBm, 1.7MB down & .3MB up. Verizon: -101dBm with an amplifier, 26.5 MB down & 5.2MB up.
I took a short walk, discovered another Escape (a 17) in another part of the camping area that I might wander to tomorrow.
Dinner was a microwaved Healthy Choice Sweet Sesame Chicken meal.
Until Tomorrow -
---
This page is maintained by: vermilye@oswego.edu
Last Update: February 19, 2020