2019 - 2020 Trip
Day 131, City Golf Campground, Douglas, AZ
2011 Trip across the US
2012 Trip across the US
2014 Trip across the US
2015 Trip to Alaska
2015-16 Southwest Trip
2016 New England Trip
2016 - 17 Southwest Trip
2017 - 18 Trip to Pick Up a New Escape 21 Trailer & More
2018 - 19 Trip to Winnipeg & the Albuquerque Balloon Fiesta
2019 - 20 Trip to the Southwest
Friday, February 28, 2020 - City Golf Course Campground, Douglas, AZ - 24.7 Miles, 4,527.8 Miles for the Trip
While I heard the Sandhill cranes leaving around 7:00AM, I used being in the middle of a series of eye drops as an excuse for not getting dressed & walking down to the pond. By the time I finished breakfast at 8:45, they were all gone.
I left the campground around 10:00, and headed to the Douglas Golf Campground. I stayed there for a week during my 2014 cross country trip, and while it is just a parking lot with hookups, it is cheap. $20.00 per night for a full hookup site. I'm in site 16.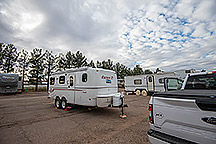 Site 16
After setting up I headed to Brite Wash Laundromat. Very crowded, but no waiting for washers or dryers. A medium size front loader was $2.00 to wash (half the $ at the Quartzsite Laundromat) , and $.25 per 8 minutes to dry. After that I headed to the Cantu Barbershop for a haircut. A real barber that even shaves your neck with a straight razor. I should point out that Douglas is a definite border town. Almost everyone is bilingual, in fact I overheard a conversation at the laundromat where one was speaking English and the other Spanish. At the barbershop the music was a Mexican radio station until I sat down in the chair, at which point Mr. Cantu, the barber switched to a country western station. As I headed out the door it was back to a Mexican station. A great haircut for $12.00.
Next was Walmart (a couple hundred feet from the border crossing) for a sewing set. I lost a button on the sleeve of one of my flannel shirts, and when I finally found my emergency sewing kit, the only needle left in it had an eye so small I couldn't thread it even with a needle threader (the tiny wire would not fit through the eye). So, I now have a deluxe sewing kit. Of course, being Walmart, I also picked up a bunch of other stuff, including dinner.
Back at the campground I headed to the showers. There are two in a bathroom that also has a small sink & one toilet. Lots of pressure, adjustable temperatures, 2 very small shelves in the shower stall, a bench & plenty of hooks in the drying area (which is not separated from the rest of the bathroom. I'm not sure why there are two showers in a bathroom with a lock on the door (that was locked most of the morning) but I'd give it an overall C+.
Dinner was 5 chicken wings, 5 potato slices & three stuffed jalapeño peppers, a quick meal from Walmart.
Until Tomorrow -
---
This page is maintained by: vermilye@oswego.edu
Last Update: February 29, 2020