2019 - 2020 Trip
Day 144 Trinity Bay RV & Lodging, Anahuac, TX
2011 Trip across the US
2012 Trip across the US
2014 Trip across the US
2015 Trip to Alaska
2015-16 Southwest Trip
2016 New England Trip
2016 - 17 Southwest Trip
2017 - 18 Trip to Pick Up a New Escape 21 Trailer & More
2018 - 19 Trip to Winnipeg & the Albuquerque Balloon Fiesta
2019 - 20 Trip to the Southwest
Thursday, March 12, 2020 - Trinity Bay RV & Lodging, Anahuac, TX, 190.4 miles, 5,648.1 Miles for the Trip
A couple of things from yesterday. First, the FitKitchen Chicken with Cashews bowl was excellent. First time I've had one; I will try some of their other microwave meals. Second, I used the showers. 2 showers with a common drying room. 2 hooks & a folding chair for a bench. The showerhead in shower #1 was a low volume version, and the showerhead in #2 was a standard flow, but clogged. It was loose enough that I temporary replaced it with my own showerhead. A small shelf in the shower for your stuff, but pretty small stalls. They did have a mat outside the shower and the floor of the drying area stayed mostly dry, so overall, I'd rate it at least a B.
Now to today. Most of the drive was on I10. I tried using US 90, which parallels I10 for much of the drive, however it kept combining with I10. Eventually, I just stayed on I10. Driving through Houston was a PIA. 6 lanes each way, with a big stop & go section to get around a wreck that blocked all but 2 lanes. I hoped that by 11:00 I'd miss the rush hour traffic, but, at least before the wreck, all 5 lanes (not the HO lane) were packed.
I was hoping to stay in the Fort Anahuac Park, which listed 2 RV sites on both of my most used RV site apps, but if they are there, I didn't find them. Next door to the fort is the Trinity Bay RV & Lodging, a somewhat fancy (concrete pads) RV park. I'm in site 22, a full hookup site for $35.00. Dead level side to side & front to back. I had to call the park phone # since no one was in the office. A young lady (at my age, they are all young ladies!) came over & logged me in. A bit cooler than yesterday, with an afternoon high of 84°F vs 92°F at Pollard RV Park. It still feels very warm since there is quite a bit of sun.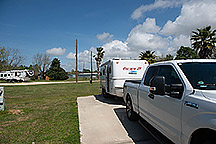 Site 22
I spent the afternoon starting a library book on the Kindle, The Warsaw Protocol by Steve Barry. Barry is one of the authors with which I have a like/dislike relationship. I keep reading his novels, and always, about half way through, decide it will be the last. By the end, I am always willing to try for the next one. At least I'm not paying for the library book (well, since my school taxes lists the library as a separate item, I guess I am paying for it).
While I could do laundry, the laundromat is to far down the row of sites to walk carrying my laundry basket, so I'll save it for one of the next parks. Although the bathrooms are rated as clean & nice on Campground Reviews, I never found them, even after walking a complete loop around the campground. Lots of permanent buildings & campsites along the outer edges of the campground, while the concrete pads in the center seem to be set up for short time stays.
Dinner was an Amy's Cheese Burrito & a salad.
Until Tomorrow -
---
This page is maintained by: vermilye@oswego.edu
Last Update: March 13, 2020