2019 - 2020 Trip
Day 143 Pollard RV Park, Gonzales, TX
2011 Trip across the US
2012 Trip across the US
2014 Trip across the US
2015 Trip to Alaska
2015-16 Southwest Trip
2016 New England Trip
2016 - 17 Southwest Trip
2017 - 18 Trip to Pick Up a New Escape 21 Trailer & More
2018 - 19 Trip to Winnipeg & the Albuquerque Balloon Fiesta
2019 - 20 Trip to the Southwest
Wednesday, March 11, 2020 - Pollard RV Park, Gonzales, TX, 225.1 miles, 5,457.7 Miles for the Trip
A warm night - I ended up tossing all the blankets & quilt since the low was 69°F. This morning I decided it was a good time to change the sheets & dump the blankets. That means it will be freezing tonight, although I doubt that - right now at 4:30 it is 87°F. I reluctantly fired up the AC for the first time since the Fall. Much too noisy for me, but I do admit the cool feels nice. It hit 92°F by the end of the day.
The plan was to stay at Palmetto State Park, but they are booked solid until Monday. I'm in the nearby Pollard RV Park, an Elks Club park that unlike most, is open to the public. $25.00 for a full hookup, back in site with a concrete pad that is almost level. The sewer is at the rear of the site, requiring more hose than I carry, so I won't be using it, not that I need to. The numbers have worn off the electrical boxes, but I guess I'm in site 5. A nasty looking wasp lives in the electrical hookup. Eventually, he or she went away long enough for me to plug in. Good AT&T speed at 33.9MB down & 5.1MB up. Like yesterday, I didn't bother checking Verizon, but the signal was good enough to stream KJZZ in Phoenix, one of the NPR stations for which I'm a sustaining member.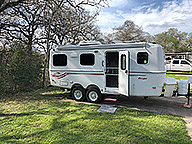 Site 5?
I'm about 3/4 through Jeff Wheeler's The Killing Fog that I started yesterday. I'm not sure why his books are free for Kindle Unlimited since they are better written than many of the books you need to pay for, but I'm not complaining. I read more of the book, and will probably finish it tonight.
Dinner was a FitKitchen Chicken with Cashews bowl.
Until Tomorrow -
---
This page is maintained by: vermilye@oswego.edu
Last Update: March 12, 2020