2019 - 2020 Trip
Day 147, Sam Houston Jones State Park, LA, Day 3
2011 Trip across the US
2012 Trip across the US
2014 Trip across the US
2015 Trip to Alaska
2015-16 Southwest Trip
2016 New England Trip
2016 - 17 Southwest Trip
2017 - 18 Trip to Pick Up a New Escape 21 Trailer & More
2018 - 19 Trip to Winnipeg & the Albuquerque Balloon Fiesta
2019 - 20 Trip to the Southwest
Sunday, March 15, 2020 - Sam Houston Jones State Park, LA, Day 3, 0 miles, 5,757.2 Miles for the Trip
Yesterday, I mentioned to a neighbor that I was hoping the Louisiana laundromats would be open on a Sunday since I had a pretty good load to wash. He said check the building a couple of sites over from ours - it is a free laundromat. It was too late to do laundry then, but I took a full basket over this morning. 2 washing machines & 3 dryers, as as described, free. I did my two loads, and was glad I started early - they were in use all day long. While sitting in front of the laundry, I watched the longest trailer make the longest stop at a dump station ever. He was there for almost 35 minutes. No one else was waiting, so he might have been faster is someone was, but he sure moved in slow motion. Of course with the size of the 5th wheel, he probably had 100 gallon tanks!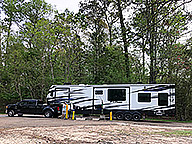 A Big, Long Dump
During & after I read my latest book on the Kindle - Robert R. McCammon's Mystery Walk. He is one of my favorite horror authors & this one is another winner. He writes at the Stephen King level. Of course, for those that don't enjoy reading horror novels, that isn't saying much, but for those that do, I feel it is a good recommendation. Almost finished by dinner.
Even though the next campground I plan to visit has showers listed, I decided that I'd try the last one here (#4). An 8 second run, with all the same other problems mentioned yesterday with shower #1.
Back at the trailer I read until dinner & watched the new arrivals. There is a large bus behind me, and a 5th wheel 2 sites down that spent half an hour getting into position. Since he only moved about 4" by the end of all that maneuvering, I'm not sure it was worth it, but they argued back & forth until he got it right.
Dinner was a Beyond Burger and the rest of the applesauce. I hope I have enough in the refrigerator for at least a weeks worth of meals - the stores are zoos, with many empty shelves.
Until Tomorrow -
---
This page is maintained by: vermilye@oswego.edu
Last Update: March 16, 2020