2019 - 2020 Trip
Day 154, David Crockett State Park, Lawrenceburg, TN
2011 Trip across the US
2012 Trip across the US
2014 Trip across the US
2015 Trip to Alaska
2015-16 Southwest Trip
2016 New England Trip
2016 - 17 Southwest Trip
2017 - 18 Trip to Pick Up a New Escape 21 Trailer & More
2018 - 19 Trip to Winnipeg & the Albuquerque Balloon Fiesta
2019 - 20 Trip to the Southwest
Sunday, March 22, 2020 - David Crockett State Park, Lawrenceburg, TN, 207.2 miles, 6,436.3 Miles for the Trip
Not quite as cold as predicted - overnight low was 50°F. I got a late start since I didn't have to go too far. A nice part of the drive was along the Natchez Trace parkway. Even nicer - gas along the way was $1.69 per gallon. I arrived at the David Crockett State Park around 2:00. No one at the office & a sign telling me to go directly to the site. I'm in site 94 in Campground 2, a level side to side & sloped enough front to back to require unhitching & lowering the tongue. Paved site with a picnic table. Electric & water for $29.21 with a senior discount.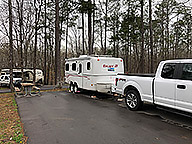 Site 94
I checked my email and discovered that my reservation at Cades Cove campground in The Great Smoky Mountain National Park has been canceled since the campground is shutting down until April 30th. I talked with Don & Anne, and they are not sure they will be able to go to the Townsend gathering here in Tennessee, so I decided that I'd finish my Tennessee State Park reservations, then head home on April 5th. I canceled a week's stay at Lotterdale Cove Campground (the week before Cades Cove), and they were nice enough to waive the cancellation fee. Seems like they are getting lots of them.
If things appear to have calmed down, I'll drive back to Townsend with the Guidos on April 14th. As things stand right now, it doesn't look like a good time for a gathering.
I talked with my brother David in Nantucket & all construction on the island has been shut down for at least two weeks, with fines for anyone found building. They are getting the usual passenger traffic on the ferries of individuals working at the construction sites, and since the don't have any Covid 19 cases on the island, they would rather not have packed ferries. They are also having a problem with the hundreds (probably thousands) of New York owners of summer homes coming to the island to escape NY. Their 14 bed hospital is going to be overwhelmed it they have the usual summer population & an outbreak. The island web page is pleading with people to stay in NY!
So, things are still up in the air. The bathrooms here at the campground are open, and being cleaned twice per day, and sprayed with sanitizer every two hours. Here is hoping Tennessee keeps their campgrounds open, and I can find the stops in VA & PA I need for the trip home.
Dinner was a barely edible Barber Chicken with Broccoli, and the last spinach cake. Yes, I again accidentally bought the pre cooked version of the chicken. Even baked, it isn't very good, and microwaving turns it to mush.
Until Tomorrow -
---
This page is maintained by: vermilye@oswego.edu
Last Update: March 23, 2020