2019 - 2020 Trip
Day 159, Bristol KOA, Blountville, TN
2011 Trip across the US
2012 Trip across the US
2014 Trip across the US
2015 Trip to Alaska
2015-16 Southwest Trip
2016 New England Trip
2016 - 17 Southwest Trip
2017 - 18 Trip to Pick Up a New Escape 21 Trailer & More
2018 - 19 Trip to Winnipeg & the Albuquerque Balloon Fiesta
2019 - 20 Trip to the Southwest
Friday, March 27, 2020 - Bristol KOA, Blountville, TN - 215.2 miles, 6,793.7 Miles for the Trip
On to the first day of the rush home. I eventually reached I 40, then my hometown interstate, I 81. The Bristol KOA is a short, 2 mile hop off the interstate, but well sheltered so there is no road noise. I did hear a distant train whistle. I'm in site 28, a 100' long pull through unless someone is parked in site 30 which is behind the trailer. Not quite level, but a 1 1/2" side to side fix with the Anderson levelers, and a slight lift on the tongue jack let me settle in without unhooking.
The site is a full hookup, although I didn't bother with the sewer. $48.29 for the night (the usual KOA inflation). One point not made when I reserved - the bathrooms are closed, so unless I decide to hook up the sewer, no shower even in the trailer. The last time I showered in the trailer without a sewer connection, the gray tank oder quickly filled the entire trailer. One of the early projects when I get home is to find the break in the gray tank vent in the closet under the microwave. I also plan to add a tank washer. I'll just stink until tomorrow!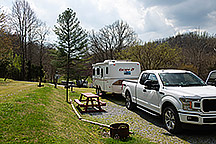 Site 28
I lost another hour, at least until heading west next year, by passing into the eastern time zone. Both phones switched, but my GPS didn't so it must be close. In any case, I spent the remainder of the afternoon sitting outside in my chair reading.
It was hot enough that I thought I'd run the AC for a bit. Went to the thermostat, and no display. Looked at the converter fuse panel & a red LED indicated a blown fuse. I tried replacing it & the replacement blew. I though about it and remembered that the electronics closet was on the same fuse. I unplugged everything, and the replacement fuse worked. Another thing to fix when I get home. I think I'll move the furnace to its own circuit since it powers the thermostat for both the furnace & the AC.
While I have enough frozen meals in the refrigerator to make it home, the menu for take out meals looked like a better idea. I had their Beer Battered Fish Platter. 2 good size pieces of fish, potato salad, French fries, hush puppies, They didn't have any tartar sauce, so I mixed a bit of pickle relish with mayo & made my own. Overall, a good & filling meal for $8.99.
Until Tomorrow -
---
This page is maintained by: vermilye@oswego.edu
Last Update: March 28, 2020