2019 - 2020 Trip
Day 160, Shenandoah Valley Campground, Verona, VA
2011 Trip across the US
2012 Trip across the US
2014 Trip across the US
2015 Trip to Alaska
2015-16 Southwest Trip
2016 New England Trip
2016 - 17 Southwest Trip
2017 - 18 Trip to Pick Up a New Escape 21 Trailer & More
2018 - 19 Trip to Winnipeg & the Albuquerque Balloon Fiesta
2019 - 20 Trip to the Southwest
Saturday, March 28, 2020 -Shenandoah Valley Campground, Verona, VA - 242.8 miles, 6,793.7 Miles for the Trip
Another 250 miles towards Oswego, NY. All of today was on I 81. I'm in site 15, a level gravelly grass site with full hookups, but no picnic table for $57.81. And I complained about KOA prices! A fairly crowded destination campground with a large fishing pond, pool, hot tubs, etc. The pool & hot tubs are closed, but the bathrooms are open.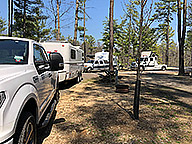 Site 15
After setting up, I sat out in the warm, but not overly hot sunshine and read. Current book is James Rollin's The Last Odyssey.
Dinner was a FitKitchen Chicken With Cashews Bowl.
Until Tomorrow -
---
This page is maintained by: vermilye@oswego.edu
Last Update: March 29, 2020