2017 - 2018 Trip to Pick Up the New Escape 21 & More
Day 199
2011 Trip across the US
2012 Trip across the US
2014 Trip across the US
2015 Trip to Alaska
2015-16 Southwest Trip
2016 New England Trip
2016 - 17 Southwest Trip
Monday, February 19, 2018 - La Posa West LTVA, Quartzsite, AZ, 80 Miles, 4,257.3 Towing Miles For the Trip
Last night's fireworks were excellent. Again I took far too many pictures, and them proceded to post far too many as well. If anyone wants to see what individual shells are available, I have the place! Again, we called it quits a little after 9:00, and they continued the fireworks until 10:30. Sure did shake the trailer! I did update yesterday's page with a couple of photos, and the link to the last set of fireworks pages.
Since I did most of my packing yesterday, it was a quick "getting ready for the road" this morning. Glad I did alot yesterday - it was cold this morning. Lots of wind and 51°F.
I stopped at the Parker Walmart for water & a couple other things, then drove across the street to Safeway for a 12 pack of Big Wave Golden Amber beer. Since I probably won't find it in the East, I'm bringing some with me.
I filled an empty propane tank at the hardware store, then drove to the Main Street Laundromat, hoping I could fit both the truck & trailer in their parking lot so I could do laundry without unhooking. While it was crowded, I did find away.
After doing laundry, I pulled into La Posa West for the night. I'm in just about the area I was in for most of the winter, however I did jocky around until I found an area where the trailer was level without unhooking.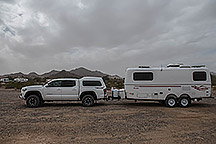 Back at La Posa West
After making the bed, I edited last night's fireworks photographs and added them to the Link to Four Days of Fireworks.
Dinner will be a Chicken Mushroom Pot Pie that is currently in the oven.
Until tomorrow -
---
This page is maintained by: vermilye@oswego.edu
Last Update: February 20, 2018