2018 - 2019 Trip
Day 200
2011 Trip across the US
2012 Trip across the US
2014 Trip across the US
2015 Trip to Alaska
2015-16 Southwest Trip
2016 New England Trip
2016 - 17 Southwest Trip
2017 - 18 Trip to Pick Up a New Escape 21 Trailer & More
Wednesday, February 20 , 2019 - Blouse Community Park, Blouse, AZ - 56 Miles, 8,264.3 Miles for the Trip
A cool night at 33°F. I took my time leaving since I was only planning to go about 20 miles to the Crossroads BLM campground on the California side of the Colorado River a bit north of Parker. I had no problem getting there, but discovered that most of the sites are reservable, and none were available. I'd been told that it was first come, but that is only true for about 3 sites. So, I headed to Blouse. I've stayed in the La Paz County park on the Colorado in Parker, so I thought I'd try the one in Blouse, AZ. Not as nice as the one on the Colorado (no showers, club house, and only one bathroom) but a water & electric site is only $14.00 per night. I'm here for 3 nights, then on to Picacho Peak State Park on Saturday. This is the first time I've had hookups since December 7th. Takes a bit of getting used to - I can leave the lights on, and cook dinner in the microwave at full power!
I'm in site 18, a pull through with water & electric for $14.00 per night. Minor problem is there is a helicopter pad across AZ 72 pretty close to my site. They did do a ambulance transfer & it was loud. Traffic is pretty light on the road, so it should be better than Quartzsite. Another cool & windy day.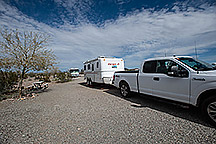 Site 18
There is both Verizon & AT&T coverage here at the campground, although both are fairly slow. Verizon is weaker at -103dBm, but faster at 4.1Mb down & 3.5Mb up, while AT&T is at -86dBm, but only .3Mb down & .2Mb up.
Dinner was a microwaved Eating Well Chicken & Wild Rice Stroganoff.
Until Tomorrow -
---
This page is maintained by: vermilye@oswego.edu
Last Update: February 21, 2019