Trip To Algonac State Park & Niagara Falls, Ontario, Day 8
2011 Trip across the US
2012 Trip across the US
2014 Trip across the US
2015 Trip to Alaska
2015-16 Southwest Trip
2016 New England Trip
2016 - 17 Southwest Trip
2017 - 18 Trip to Pick Up a New Escape 21 Trailer & More
2018 - 19 Trip to Winnipeg & the Albuquerque Balloon Fiesta
2019 - 20 Trip to the Southwest
September 13, 2021, Phil & Sue's Back Yard, Wilsonville, Ontario - 159.7 Miles, 766.3 Miles For the Trip
Just a short post before I leave this morning - I don't know if I will have connectivity to post for the next day or two, so if you don't see anything, don't worry. While my phone plans include Canada, I have not had good luck with that in the past, so I may have to catch up when I am near enough to the US to connect.
Later:
I guess I filled out the ArriveCAN app correctly - crossing the border wasn't any more difficult than without Covid and there was no line at the entry station. They did ask for the test results which was on my phone. The usual questions (and answers) and in 5 minutes I was on my way.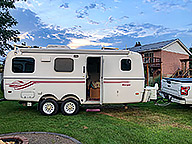 Phil & Sue's
Mike, another fiberglass trailer owner that was at the Algonac rally is a friend of another Bigfoot owner who lives in Canada on the way to Riverside Motel & Campground in Niagara Falls. Phil & Sue offered a piece of their backyard for a day or two which works well for me since my reservation at the campground doesn't start until Wednesday. So, I pulled into Wilsonville around noon. Mike & others won't be here for another couple of hours since they had their Covid tests later & didn't need to cross the border by my 11:40AM deadline.
Dinner was a delicious tenderloin with all the fixing and a wonderful lemon dessert.
Until Tomorrow -
---
This page is maintained by: vermilye@oswego.edu
Last Update: September 14, 2021