Trip To Algonac State Park & Niagara Falls, Ontario, Day 10
2011 Trip across the US
2012 Trip across the US
2014 Trip across the US
2015 Trip to Alaska
2015-16 Southwest Trip
2016 New England Trip
2016 - 17 Southwest Trip
2017 - 18 Trip to Pick Up a New Escape 21 Trailer & More
2018 - 19 Trip to Winnipeg & the Albuquerque Balloon Fiesta
2019 - 20 Trip to the Southwest
September 15, 2021, Riverside Motel & Campground, Niagara Falls, Ontario - 73.1 Miles, 839.4 Miles For the Trip
Rather than taking the 403, Phil & Sue suggested a series of province & town highways that take about the same time, but through more interesting countryside. 80km speed limits, but a shorter drive. We left around 11:00 and arrived at the campground around 12:30. With the 80km speed limit (50MPG) I averaged 14.4MPG towing for the day.
I'm in site 25, which is a full hookup site 2 sites away from the showers. A bit damp towards the back of the site, but they did have quite a bit of rain over the last couple of days. It is close to level side to side & I had to lower the tongue 3 inches. $50.60 US per night for 5 nights.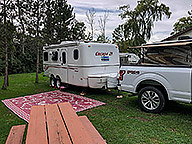 Site 25
After setting up, I took a walk around the campground, meeting some folks I haven't seen in 2 years.
I headed for the showers in the late afternoon, and have to give them a pretty low rating. The good - large shower & drying areas with a soap shelf in the shower & a shower curtain. The bad - no hooks, no table, a plastic lawn chair that serves for both. Shower spray gets under the shower curtain & wets the drying room floor. Very low water pressure with a 10 minute wait for warm, not hot, water. I don't know if it the plumbing or planned, but plenty of cold water. Turn the handle towards hot and it dies down to almost nothing. In any case, I'm clean.
I am using my AT&T cell modem for connections (and cell calls over WiFi. The US is just across the Niagara River and while my phones sometimes pick up a Canadian cell tower, the modem can't roam & has a solid US AT&T connection - 38.1Mbps down & 13.8 Mbps up. I didn't check Verizon, but there is a fairly good signal on my Verizon phone. I'll probably stick with AT&T unless a problem develops since I've used well over 1/2 my monthly data allotment on the Verizon network.
Dinner was a pot pie with a piece of cake (thanks Sue) for dessert.
Until Tomorrow -
---
This page is maintained by: vermilye@oswego.edu
Last Update: September 16, 2021